Burgundy Luxury Wine & Cultural Tour
Burgundy Premium Wine exclusive Tour
INDULGE IN BURGUNDY HEAVENLY WINES & GASTRONOMY WHILE EXPLORING THE REGION THROUGH ITS TRADITIONS AND HISTORY
4 days / 3 nights
• Luxury boutique-hotel accommodation
• Breakfasts and Gourmet lunches
• Private Expert-led "Premium" wine Tours
• Food and cultural guided Tours
• Transportation by private car or van
Before booking this tour,
please contact Corinne at +33(0)626 815 015 (WhatsApp)
We want to be sure that this tour, the itinerary and the food offered match with your wishes, likes and expectations. Thank you.
We look forward to speaking with you and to welcoming you soon!
Exclusive Premium Wine, Gourmet and Cultural Tour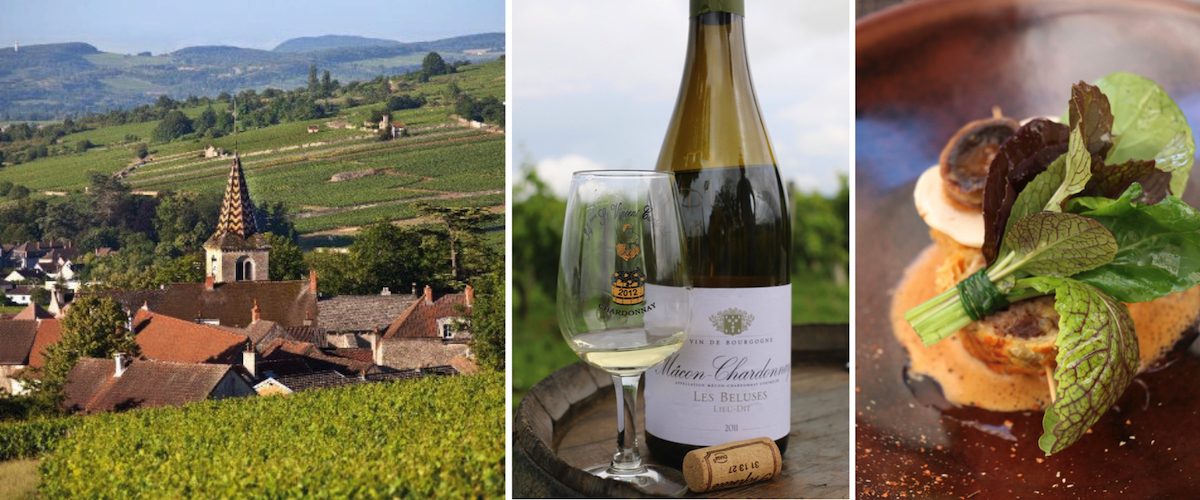 Internationally known for its legendary World Heritage Vineyards and Grands Crus Wines, Burgundy has a long history and deep traditions.
♥ You have added Burgundy on your bucket list ?
♥ Join Corinne of Lifestyle Vacations France to explore this region of beauty and gastronomy on a VIP way, from must-see sites to hidden treasures.
♥ An experience of a lifetime!
Lifestyle Vacations Burgundy Wine, Gourmet & Cultural Luxury Tour highlights the Word Heritage Grands Crus Route from Dijon and Beaune to Santenay and Southern Burgundy between the Mâconnais and Côte Châlonnaise vineyards.
You will visit high-ranked wineries (not touristic ones), meet the wine growers and makers who will explain their work and offer tastings of their finest wines then. You will stroll across quaint villages and towns. You will discover chateaux and medieval abbeys. You will enjoy the Burgundy exquisite cuisine in traditional and Michelin-starred restaurants, paired with Premier & Grand Crus wines.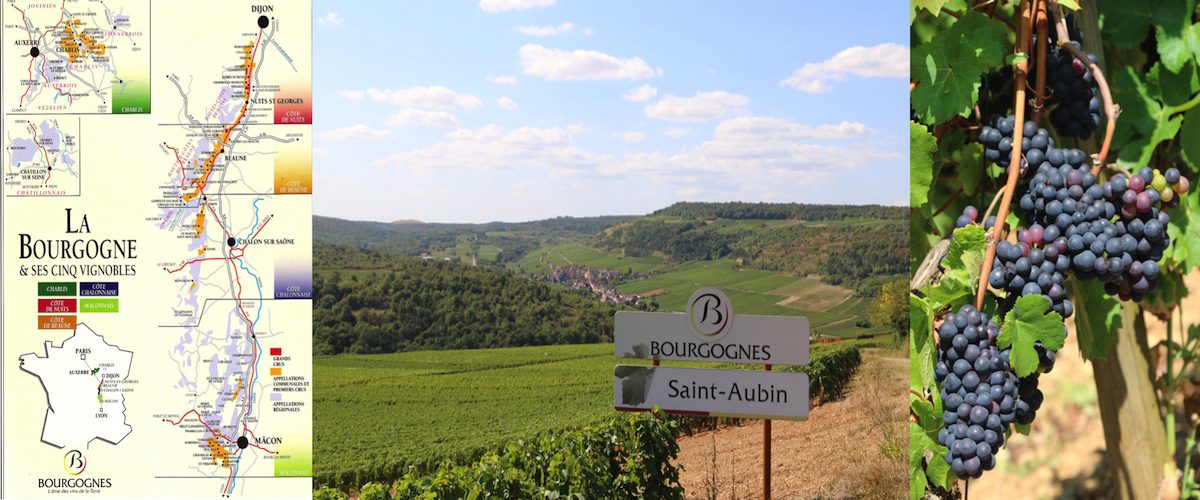 Burgundy's History & Legendary Wine Routes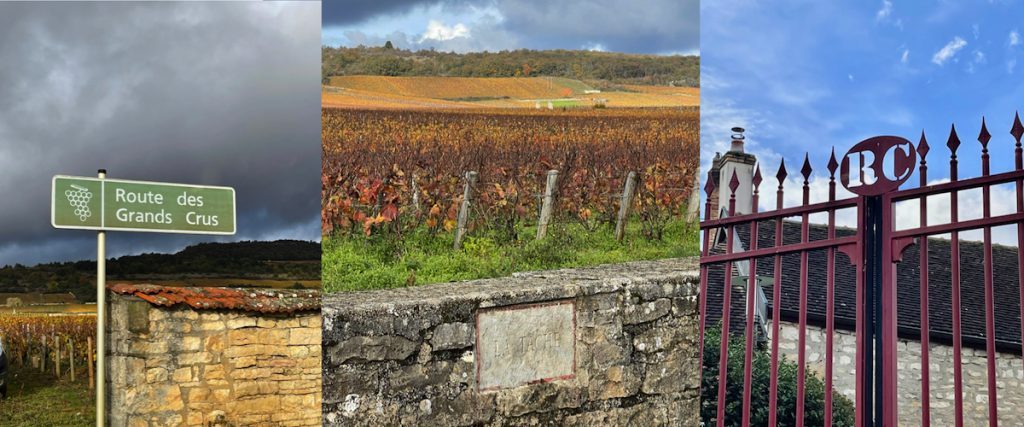 To better understand Burgundy, you virtually travel back to ancient times and especially to the Middle Ages. At this period, Cistercian monks of the Cîteaux abbey developed a prosperous business, viticulture and agriculture by reclaiming the land to plant the vines, but not only. Farms and wineries were built… the biggest and the most prestigious one is the Clos Vougeot. Hundred years after the foundation of Cîteaux, a thousand abbeys and six thousand farms were built all over Europe. However it's in the 15th century that Burgundy gained its glorious age, under the Duke Philip the Good's power. At that time, Burgundy stretched from Holland and the Flanders (Belgium).
Burgundy features several Wine Routes stretching over 250 kilometers on a North-South axis. It starts by the Chablisien terroir producing very fine dry white wines that we recognize for their purety, freshness and minerality. The vines grow in a 150 million year-old limestone soil.
More southern, before arriving to the Beaujolais, two other vineyards have to pay your attention: it's the Mâconnais and the Côte Châlonnaise. Even though southern Burgundy wines as not as prestigious than legendary Corton or Romanée-Conti, the appellations of Rully, Mercurey, Givry, Montagny, Saint-Véran, Viré-Clessé… are very interesting to discover and to pair with the French and Burgundy cuisine.
You will explore the Burgundy Grands Crus Route, called "Climats de Bourgogne" listed as the UNESCO World Heritage since July 2015. It covers 60 kilometers of vineyards, 37 wine-growing villages, prestigious cellars and above all 32 of the 33 grands crus that make up Burgundy (the 33rd is in Chablis). This makes Burgundy totally unique.
CLIMATS means vine plots marked over centuries and planted over sixty kilometers on a thin strip of vineyards from Dijon to Santenay. It features the most famous names from the world wine: Nuits-Saint-Georges, Gevrey-Chambertin, Vosne-Romanée, Clos de Vougeot, Montrachet, Corton, Chambolle-Musigny, Pommard, Meursault, etc. The routes you will explore offer breathtaking landscape and exceptional heritage with perfectly lined vines, and picturesque villages.
To offer a perfect understanding of the Burgundy wines and its process, you will partake in a wine tasting class in addition to the connections with wine growers and wine makers. You will learn how Burgundy's star grape varieties, Pinot Noir and Chardonnay, express themselves across Burgundy's rich maze of villages and terroirs. Wineries you will visit are located in Puligny Montrachet, in Vosne-Romanée and in Mercurey. Each visit starts in the vineyard, continues in the winery and cellars, and it ends by the finest wine tastings.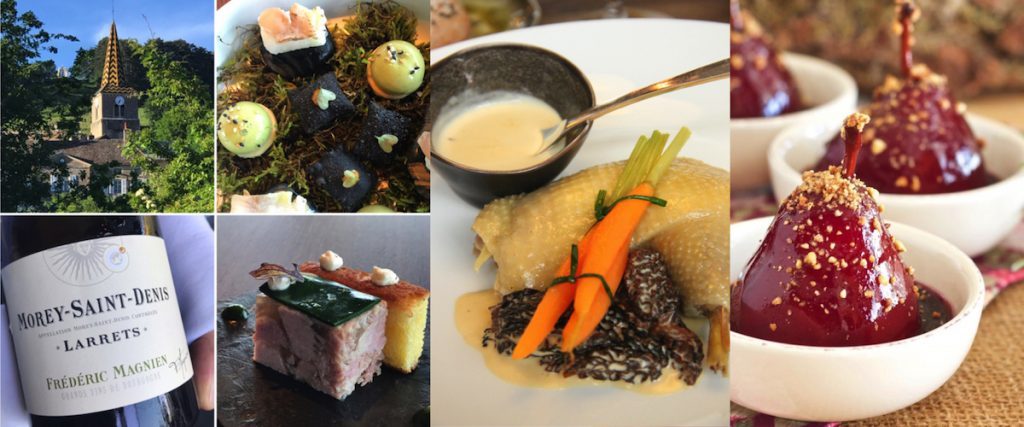 The Burgundians claim their traditions, and gastronomy is a whole part of it. In Burgundy, people always pair a grand Pinot Noir or an elegant Chardonnay with a specialty of the region and the list of long!
We usually start by enjoying an aperitif accompanied by a Gougère, an original warm cheese puff.
Jambon Persillé, a pâté made with ham and parsley in aspic, is a classic of the Burgundy gastronomy.
Evoking Burgundian cuisine is sometimes adding Escargots to the menu. Disgorged and cooked first, snails are combined with a parsley and garlic butter and baked in the shell.
Oeuf en Meurette is served as an appetizer. It's a poached egg in a red-wine reduction sauce with diced bacon and mushrooms.
Burgundy is also very proud to be in the Bresse territory for breeding the free-range, premium-quality chicken. Brillat Savarin's book "The Physiology of Taste" released in 1825 ranked the Bresse Chicken first and gave it the name "Queen of poultry, poultry of Kings"! Simply roasted or cooked for special occasion with wine, cream and morrels, it's a delish!
Dijon Mustard is also used to rub a meat before roasting it, or can be added to a sauce to accompany a meat. Burgundy truffles and wild mushrooms also appear in many recipes.
The region also boasts a lusciously cow's-milk cheese called Époisses while the monks of Cîteaux abbey make a while milder cheese of the same name.
In Burgundy, a meal is never finished without a good Dessert such as mille-feuilles, poached fruits in red wine, gingerbread or blackcurrant cream.
In a word, Burgundy is listed as France's most popular destination for gourmets!
Luxury Hotel**** accommodation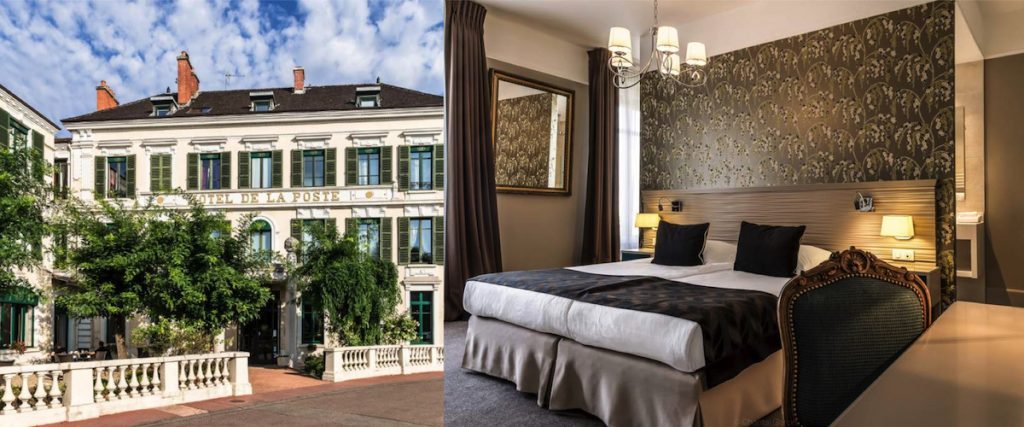 Just a few minute walk from Beaune historic quarter, Hotel de la Poste is a 4-star beautifully decorated 19th-century hotel, a former Coaching Inn. It's a unique hideaway featuring a romantic garden in the capital of Burgundy's wine region.
The hotel offers elegantly decorated rooms and suites with en-suite bathrooms with a view on the town or on the garden. Rooms and suites are furnished with stylish antiques and feature spacious living spaces fitted with modern en suite facilities.
Set in the cosy Belle Époque bar, you are invited to a teatime, aperitif or relaxing late night drink.
---
Day 1: Welcome to Burgundy
Pick-up at Dijon train station (TGV is direct from Paris or Lyon).
Transfer to Beaune by private luxury van
Lunch in Gevrey-Chambertin
Afternoon check-in at the hotel***** in Beaune
Guided walking tour in Beaune including the visit to the stunning Hôtel Dieu, the former hospital founded by Nicolas Rolin and Guigone de Salin in the 15th century.
Time free at your leisure
Gourmet dinner in Beaune.
Overnight.
Day 2: Morning Wine tasting Class in Beaune – Afternoon Côte de Nuits Cultural & Wine tour
After breakfast at your hotel, walk to the wine tasting school
At 10am, you will partake in a wine tasting class in Beaune.
You will learn first about the terroir, grapes, flavors, aromas and tasting methods (visual, olfactory and gustative examination). You will then experience a blind tasting including ten Côte de Beaune and Côte de Nuits wines (5 whites and 5 reds "village", "1er Cru" and "Grand Cru". It can include the following whites and reds : Saint Romain en Chevrot 2017 – Ladoix 1er cru les Gréchons 2017 – Chassagne-Montrachet 1er cru les Baudines 2017 – Meursault 1er cru Santenots 2014 – Corton Charlemagne Grand Cru 2015. Beaune 1er cru les Bressandes 2016 – Volnay 1er cru les Carelles Sous la Chapelle 2011 – Nuits-Saint-Georges 2015 – Gevrey-Chambertin 1er cru Clos Prieur 2016 – Aloxe-Corton 1er cru la Toppe au Vert 2015.
Lunch break at Corinne's home in Beaune (5 minutes away by foot to your hotel)
Afternoon guided tour to the Côte de Nuits through Aloxe Corton, Gevrey-Chambertin, etc.
Visit to the legendary Clos de Vougeot and to a high-ranked Vosne-Romanée winery.
Michelin-star gourmet dinner in Pernand-Vergelesses.
Overnight.
Day 3: Full-day Southern Burgundy Wine & Cultural Tour
Breakfast at your hotel.
9am: Transfer through Côté Châlonnaise vineyards (Rully, Mercurey, Givry) to Cormatin. 10am:
9:30am: Visit to a high-ranked winery in Mercurey.
11am: Visit to Cormatin 17th-century chateau featuring sumptuous interiors and décor.
1pm: Michelin-star lunch in Tournus.
Afternoon walk through the town's historic quarter to the abbey.
Visit to a Bresse chicken farm nearby Tournus
Transfer to Beaune. Resting time.
Aperitif dînatoire at Corinne's home in Beaune
Overnight.
Day 4: Côte-de-Beaune Wine Tour
Breakfast at your hotel.
Transfer to Puligny Montrachet which is 20 minutes away.
9:45am: Meet the wine grower in the vineyard who will explain the process step by step.
11:15am: Visit to the winery and cellars.
12:30pm: Food and Wine pairing lunch.
On the way back to Beaune, you will see Chassagne-Montrachet, Meursault, Volnay and Pommard quaint villages.
Time free at your leisure in Beaune.
Gourmet dinner in Meursault.
Overnight.
Day 5: Check-out – End of the Tour
Breakfast at your hotel.
Check-out before 11am.
Private transfer to Dijon train station.
End of the tour.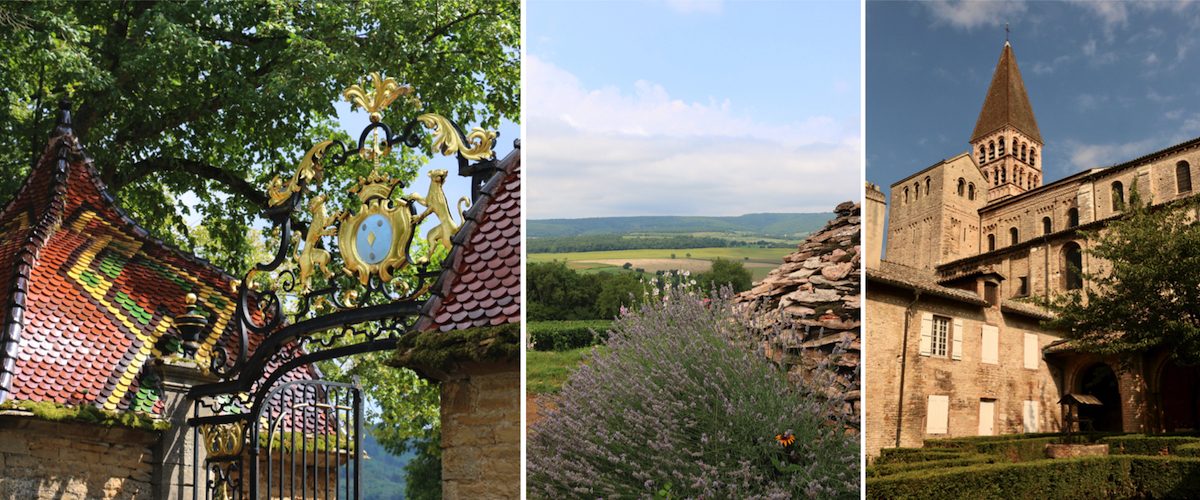 $3,980 per person (DBL occupancy)
Single occupancy supplement: $595
All taxes and VAT includes.
Price includes :
♦Dijon TGV train station round-trip private transfer
♦ Daily transportation by luxury van for the visits and tours
♦ 4-night luxury hotel**** accommodation in Beaune
♦ Daily breakfasts, lunches and dinners including Michelin experiences
♦ Burgundy Premium wine tasting class in Beaune
♦ Beaune guided walking tour
♦ Côte de Beaune and Côte de Nuits world heritage vineyards expert-led wine tours
♦ Southern Burgundy full-day gourmet and wine tour featuring Côte Châlonnaise, Mercurey, Rully, Tournus and Bresse.
Not included : airfare to/from your country, wine in restaurants, personal insurance, personal expenses, and all which is not included in "price includes".
---
2024 TOUR DATES
Burgundy Premium Wine exclusive Tour is offered upon request from April to October.
This tour is confirmed with 4 people and it is limited to 6 participants.
Please contact us for additional information and special request. Thank you.