PARIS VIP FRENCH OPEN & NORMANDY TOUR 2024
Normandy & Paris French Open VIP Tour 2024
Welcome to Normandy & Paris French Open 2024!
Take a few extra days during your vacation in Paris to explore Normandy, to admire the treasures of its architecture, to immerse yourself in its history while savoring its incredible art of living
Experience the French Open legendary tennis world tournament while exploring Paris' picturesque historic quarters, admiring its outstanding monuments and enjoying its gastronomy & lifestyle.
♦ Paris airport transfers
♦ Normandy all-inclusive guided tour
♦ Boutique-hotels**** accommodation
♦ Roland Garros Central Court VIP hospitality
♦ Cultural and gourmet guided walking tours
♦ Champagne-tasting River Cruise and much more…
We want to be sure that this tour, the itinerary and the food offered match with your wishes, likes and expectations. Thank you.
We look forward to speaking with you and to welcoming you soon!
Discover the stunning historic and picturesque Normandy region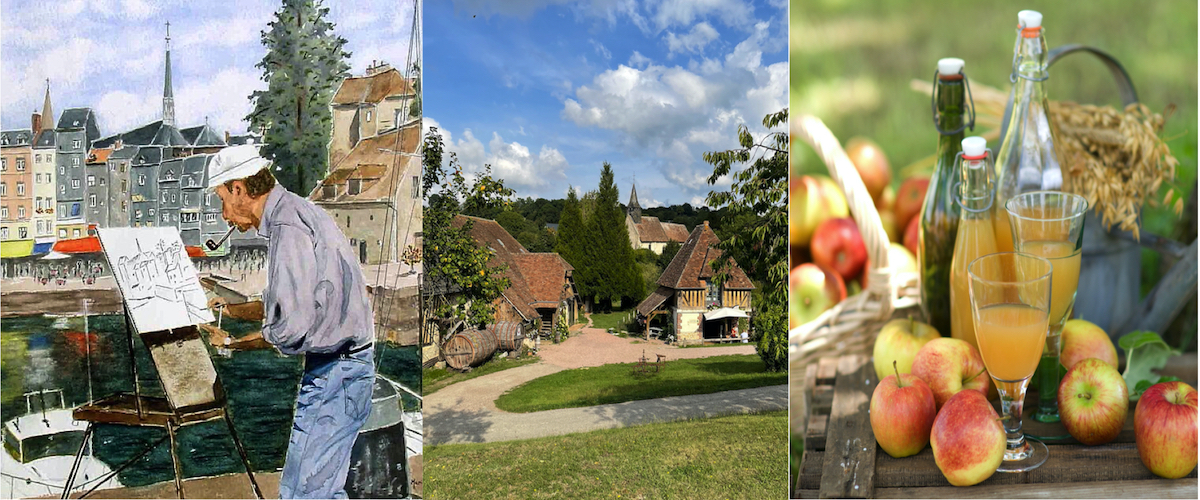 You wish to visit Paris while experiencing the French Open Grand Slam tournament.
You are keen to explore Normandy in a few days. We have the perfect program for you!
Our exclusive guided tour includes a 3-day/2-night Normandy getaway and a 5-day/4-night journey in Paris.You will start visiting Normandy and enjoy Paris then. Both in Normandy and Paris, you will enjoy the French gastronomy in traditional restaurants and bistros.
Welcome to Normandy!
This wonderful region is well known for its D-Day landing beaches where the most significant battles of the 20th century occur and led to the liberation of Western Europe from Nazi occupation in 1944.
In visiting Normandy, you will discover a verdant region with rolling hills matching pastures and groves, scenic countryside scattered with farms and quaint villages leading to a stretch of coastline, picturesque harbors and fishing villages, historic towns with an strong medieval history.
You will visit :
Rouen, Normandy's historic capital, with an exceptional architectural and religious heritage. Strolling across its cobbled streets lined with half-timbered houses you will admire the Renaissance Great Clock, a gothic belfry with a 14th-century machinery and the earliest town bells. You won't miss the Parliament of Normandy's origins dating back to the late Middle Ages, the Old Market Square where Joan of Arc was buried alive in 1431, and the 12th-century old Our-Lady gothic cathedral built on the foundations of a 4th-century structure which houses the tombs of the Dukes of Normandy.
Bayeux is a well preserved town with typical streets, medieval houses, water mills and well-known with the Unesco-listed tapestry depicting the Norman conquest of England in 1066. This exceptionally ambitious piece of craftsmanship, measuring over 230ft (70m) in length, was most likely ordered by William the Conqueror's half-brother, the warring Bishop Odo of Bayeux.
Bayeux is 6 miles away to the D-Day sites. During the world War II, Bayeux was extremely fortunate to avoid most of the destruction and tragedy following D-Day that other Normandy towns such as Caen suffered.
Pays d'Auge with its stunning countryside villages are well known for stud farms, cheeses and apple groves, brandy distilleries, and quaint villages with half-timbered houses. The itinerary follows a part of the Cider Route through Beuvron-en-Auge, Cambremer, Bonnebosq, etc. All along winding roads, you will enjoy the charm of the countryside, pastures, orchards, chateaux and manor houses.
Honfleur is as historic as artistic. One of the major port at the 17th century, this little seaside town features remarkable architectural heritage still today with its inland harbor lined with slate-covered frontage houses, an impressing former salt storage building "Grenier à Sel", narrow cobble-stone streets with antique and designer shops, art galleries, and very good restaurants. Honfleur is the birth place of Eugene Boudin, 19-year older than Monet, one of the most influencing impressionist master who was the first one to take his easel outside and paint the landscapes live.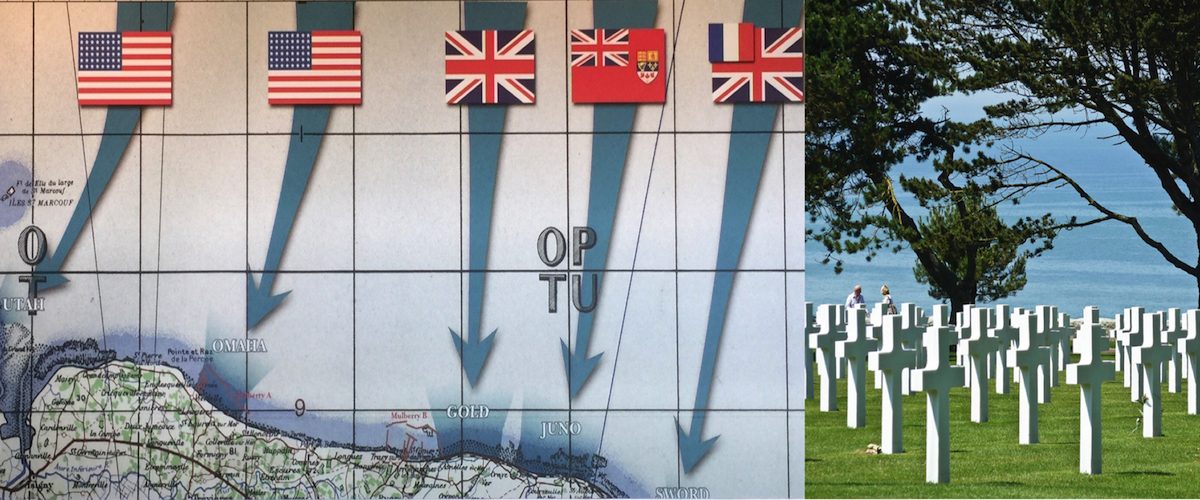 D-Day Sites ∼ Via large or small screen, we all think we know the Normandy landing beaches, stretching from Utah Beach to Sword Beach west to east, But nothing quite prepares you for a walk on the sites. All of them have significant museums in which to discover their riveting stories. The fifty-four miles of coast are littered with WWII museums, monuments, cemeteries and battle remains left in tribute to the courage of British, Canadian and American armies that successfully carried out the largest military operation in history: D-Day. On these serene beaches, at the crack dawn on June 6, 1944, the Allies finally gained a foothold in France. From this moment, Nazi Europe was destined to crumble. Pointe du Hoc is a D-Day tale of courage and resilience, a site where US Rangers scaled the sheer cliff-face (using rope ladders) to seize the German fortification here, four miles west of Omaha beach. You will visit Omaha Beach, Pointe du Hoc and the WWII Normandy American Cemetery and Memorial, the resting place for nearly 10,000 Americans who died on the nearby beaches.
---
French Open VIP experience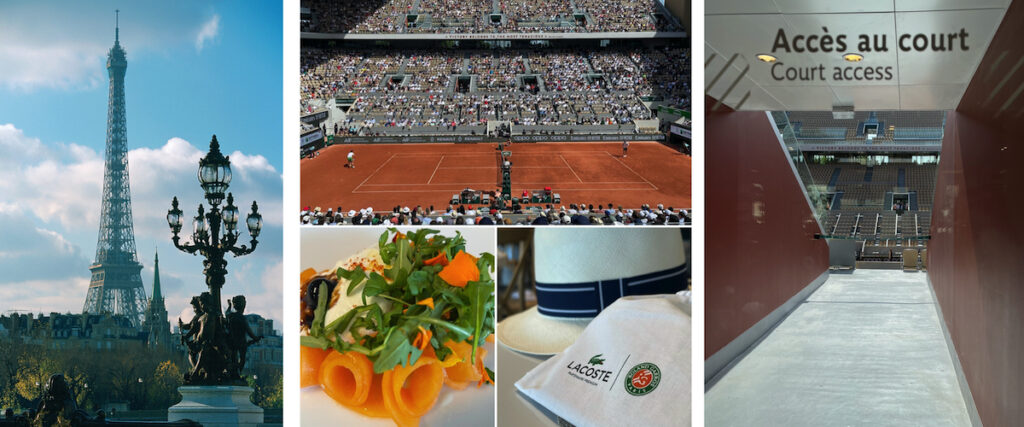 Back from Normandy, you will enjoy Paris!
You will experience the French Open on the most VIP way.You will visit Paris historic quarters through our unique cultural and gourmet walking tours. You will board the Maxim's to discover Paris by its majestic Seine river and admire the city's most beautiful monuments, all while tasting Champagne.
May is a very good period to travel to Paris and to experience the iconic Grand Slam at Roland Garros, considered as one of the toughest tournaments to win and to offer memorable moments between the top players in the sport. Be there when tennis' best champions come in Paris to battle it out at the world's greatest clay court championships!
What does Roland-Garros hospitality include?
♦ Roland Garros VIP access and Prime seats on the Central Court Philippe Chartier
♦ Free access to all outer courts
♦ Open bar from 11am, Cocktail and Lunch in a private lounge,
♦ Gift souvenir.
Roland Garros in the history…
The stadium, originally built in 1928 to host the Davis Cup, is a tribute to the French aviator Roland Garros. It now covers a 21 acres area featuring 3 large clay courts (Philippe Chatrier, Suzanne Lenglen, Simone Mathieu), 30 practical clay courts, extensive media and retail places and a museum.
The French Open at Roland Garros is the leading clay court event in the world
and the Second of Four yearly Grand Slam events.
---
Chic B&B accommodation in Bayeux, Normandy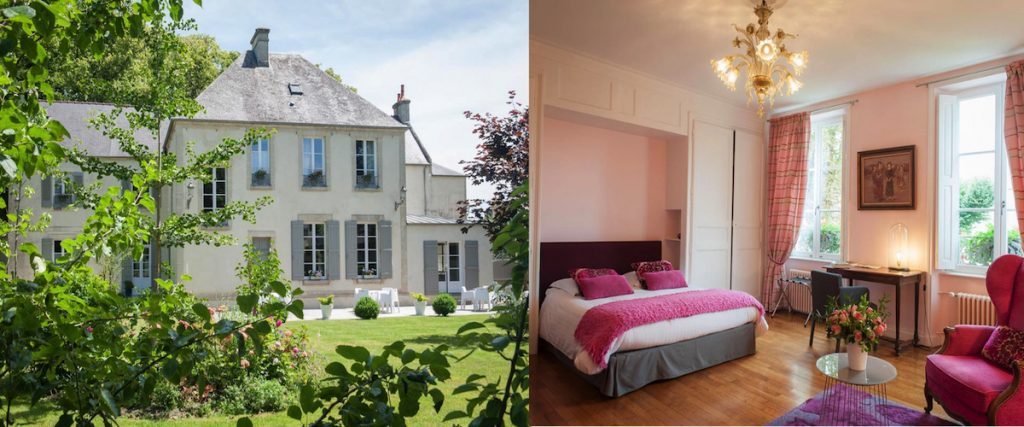 Manoir des Tilleuls is a 18th-century entirely renovated property centrally located in Bayeux historic quarter, steps to the cathedral and tapestry museum.
This elegantly decorated B&B offers five spacious en-suite bedrooms furnished with stylish antiques. Although the property is in town, it overlooks a manicured tree shaded garden where you will appreciate to rest after a long day of visits.
You will start your day with a continental breakfast served in one of the two dining rooms. It offers a wide variety of choices, both savory and sweet, including fresh bread, croissants, fruits, juices, hot drinks, and more.
---
4-star stylish Boutique-Hotel Accommodation in Paris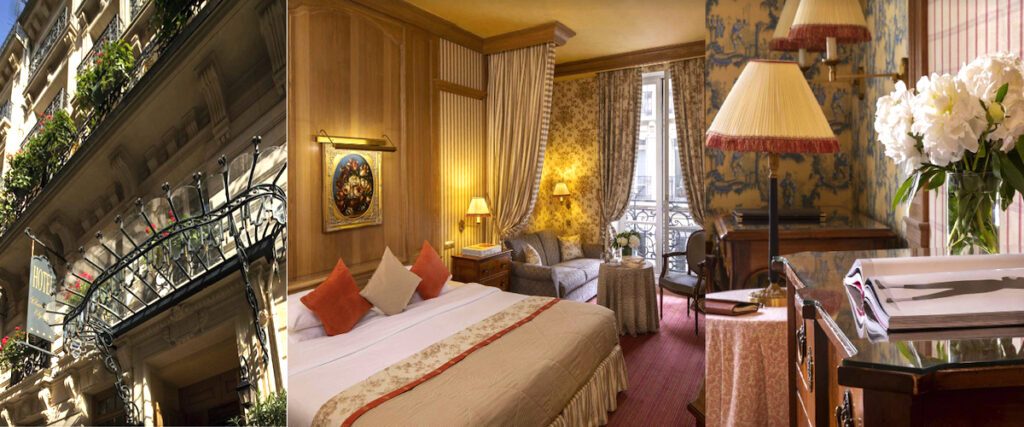 Welcome to Paris-Montaigne four-star stylish boutique-hotel centrally located in the prestigious Gold-Triangle quarter, walking distance to Champs-Elysées and George V Avenue. The Seine River banks and the Eiffel Tower are a few minutes away by foot.
Paris-Montaigne is a family-run hotel offering 34 spacious and elegant rooms and suites decorated in a romantic Parisian style, and furnished with stylish antiques, all with bath or shower ensuite. Each room provides satellite TV and free WiFi internet access. Buffet breakfast is served in the flowery patio in the warm season or in the dining room. You will appreciate to relax by the end of the day in the cozy lounges and enjoy a tea, coffee or French wine!
---
Saturday May 25 (Day 1) ∼ Welcome to Paris & to Normandy!
Private airport transfer to Normandy.
Rouen cultural guided walking tour and Lunch.
Afternoon transfer to Bayeux.
Check-in at Le Manoir des Tilleuls B&B. Resting time
Dinner in a traditional restaurant.
Overnight.
Sunday May 26 (Day 2) ∼ D-Day Sites full-day Tour (Utah Beach, Omaha & Pointe du Hoc, Colleville Montgomery)
After breakfast, meet our tour guide in Bayeux.
Private transfer to Utah Beach.
Morning Utah Beach (4th US Division) expert-led tour.
Lunch in Sainte-Mère-Église (82nd US Airborne).
Afternoon Pointe du Hoc (2nd US Rangers) and Colleville-sur-Mer American Cemetery expert-led tours.
Transfer to Bayeux.
Dinner in a traditional restaurant
Overnight.
Monday May 27 (Day 3) ∼ Bayeux, Pays d'Auge, Honfleur
Check-out after breakfast.
Morning visit to the Tapestry Museum featuring the 70 meters long very well-preserved tapestry which tells the epic story of William the Conqueror, Duke of Normandy who became King of England in 1066 after the battle of Hastings.
Transfer to Livarot to visit the cheese making factory and Calvados farm. Lunch.
Transfer to Honfleur which is as historic as artistic.
Honfleur guided walking tour. Early dinner in Honfleur
Transfer to Paris. Late check-in at your hotel.
Overnight.
Tuesday May 28 (Day 4) ∼ Morning Food Lovers' walking tour ∼ Afternoon free at your leisure ∼ Champagne cruise
Breakfast at the hotel.
Morning Saint-Germain-des-Prés food walking tour.
Afternoon Champagne tasting river cruise and time free at your leisure.
Dinner on your own (see our list of restaurants).
Overnight.
Wednesday May 29 (Day 5) ∼ Full-day French Open "Club des Mousquetaires" VIP Hospitality
After breakfast, meet our driver at your hotel
Private transfer to Roland Garros stadium. Welcome to the VIP lounge with tea, coffee and soft drinks.
Full-day in Roland Garros stadium to see the games on the Central court and free access to the outer courts.
Gourmet lunch in a private lounge.
Unlimited access to beverages and snacks throughout the day in the lounge
Dinner on your own (see our list of restaurants recommended).
Overnight.
Thursday May 30 (Day 6) ∼ Morning Paris right bank tour & Lunch ∼ Afternoon free at your leisure
After breakfast, meet Corinne at the hotel at 9am.
Morning guided cultural tour featuring Paris right bank, from Montmartre to Palais Royal.
Gourmet lunch in a chic brasserie.
Afternoon free at your leisure.
Dinner on your own (see our list of restaurants we recommend).
Overnight.
Friday May 31 (Day 7) ∼ Transfer to Paris CDG airport.
Breakfast at the hotel. Check-out before 11am
Private transfer to CDG airport
End of the tour.
---
$5,970 per person (DBL occupancy)
All taxes and VAT included.
Price includes:
♦ Paris CDG airport round-trip transfer
♦ Transport in a chauffeur-driven luxury van for the Normandy tour
♦ Normandy 3 full-day private guided tour
♦ Entrance tickets to the Normandy sites
♦ Le Manoir des Tilleuls B&B accommodation in Bayeux
♦ Montaigne Boutique-hotel**** accommodation in Paris
♦ Daily breakfasts
♦ All lunches and dinners in Normandy
♦ Roland Garros Central Court VIP hospitality
♦ Food Lovers' and cultural walking tours
♦ Champagne-tasting River Cruise
Not included: international airfare to/from your country, wine in restaurants, 3 dinners in Paris, personal expenses and personal insurance, and all which is not mentioned in "price includes".
---
2024 TOUR DATE
May 25-31 SOLD OUT
Tour is limited to 4 participants.
Considering the limited space available in the tour, it's highly recommended to book it in advance. Thank you.