Let's travel back to the Middle-Age and beyond to better understand this rich region which boasts a remarquable heritage among the most beautiful in the world. To its millenary history is added geographic and climatic elements which have shaped breathtaking landscapes and fertile soils and lands. So many traditions that local people have the pleasure to share with you, and that we invite to explore with us!
BORDEAUX AT A GLANCE..
Bordeaux, listed at the Unesco world heritage, is the capital of Aquitaine and the fifth-largest city in France. The city also gave its name to the vineyard and its legendary wine châteaux of Medoc, Pomerol, Saint-Emilion, and more Ideally located at the Gironde river estuary, a few kilometers distance from the Atlantic coast, Bordeaux was the largest port in France before the 1789 Revolution. The wine trade and the commerce contributed to make merchants fortunate and to create a 18th century fabulous architectural heritage: private mansions, opera house, theater and museums, tree-shaded thoroughfares and avenues that invite to walks, beautifully designed river banks facing classified buildings such as Hotel de la Bourse, Grand Pavilion and fountains… Bordeaux is an alive city with shopping streets in historic quarters, indoor and open-air markets, cafés, wine bars, salon de thé, intimate bistros and gourmet restaurants.
PERIGORD AT A GLANCE…
This region is historically one of the most interesting in France. Shaken by religious wars and conflicts that opposed the Kingdoms of France and England (remember Alienor of Aquitaine married to English King Henri II "Plantagenets") at the middle-age, highlighted during the calmer period of the late 15th and early 16th centuries by a development in urban architecture, the Perigord boasts the finest Gothic and Renaissance residences in Perigueux, Bergerac and Sarlat. In the countryside, the nobility had the majority of the more than 1200 chateaux, manors and country houses erected. In the second half of the 16th century, however, the terrors of war again visited area as the attacks, pillaging and fires of the Wars of Religion reached a rare degree of violence in Perigord… Today, most of these architectural gems have regained their former glory after titanic renovation works supported by the Ministry of Culture and the Historical Monuments committee.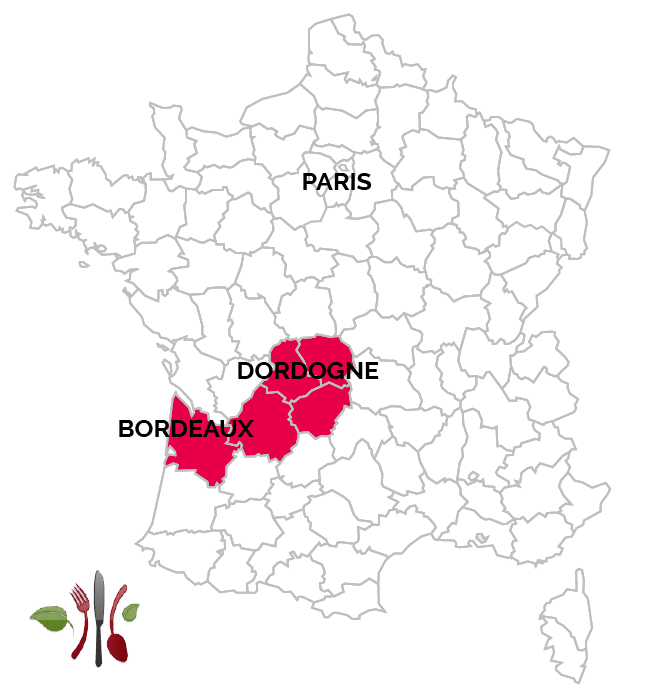 Cooking with Corinne in the Périgord