LIFESTYLE VACATIONS PORTUGAL, Lisbon & Alentejo
Portugal Heritage Culinary & Cultural Tour
The Heritage of Portugal, featuring Lisbon & the Alentejo regions is a glorious celebration of Arts, History and Culinary Traditions.
This tour is confirmed with 4 people and it is limited to 6 participants.
9 days / 8 nights (Thursday-Friday)
♦ Luxury Boutique-Hotels Accommodation
♦ Daily breakfasts, Lunchons & Dinners
♦ Gourmet & Cultural expert-led Tours
♦ Hands-on Cooking Classes
♦ Airport round-trip transfer & transportation by luxury Mercedes van
Before booking this tour,
please contact Corinne at +33(0)626 815 015 (WhatsApp)
We want to be sure that this tour, the itinerary and the food offered match with your wishes, likes and expectations. Thank you.
We look forward to speaking with you and to welcoming you soon!
Welcome to Lisbon & Alentejo in Portugal!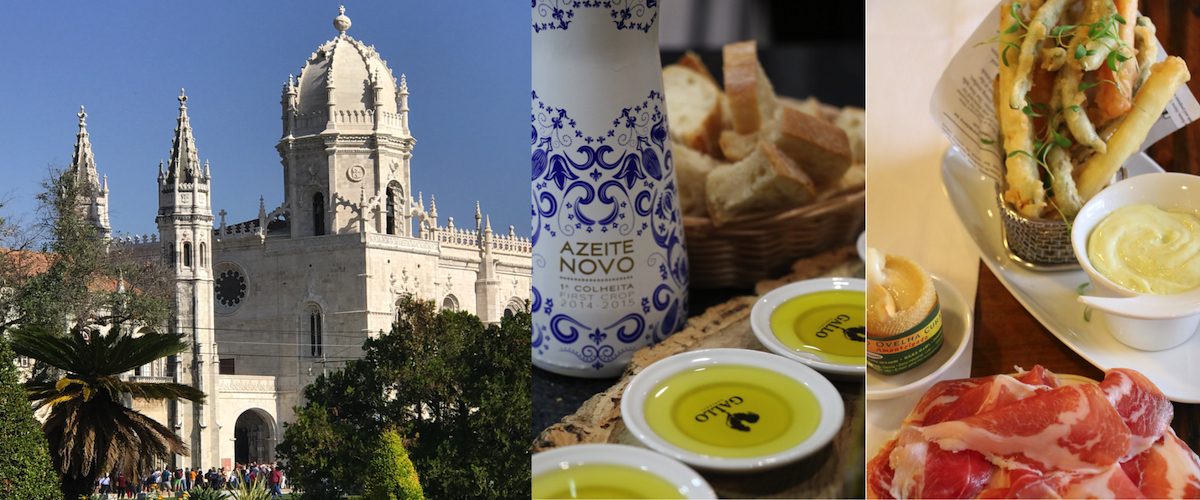 The Heritage of Portugal is a Lifestyle Vacations' original luxury Tour combining Lisbon, Sintra, Cascais and the Alentejo stunning region, well known for its vineyards, olive groves, cork manufactures and Unesco sites. It features luxury boutique-hotel accommodation and a glorious celebration of arts, culture, history and Portugal's culinary traditions.
This exclusive tour in Portugal is designed for individuals and small groups of up to 6 people. It's guided by Corinne Preteur personally.
Cultural Tours Highlights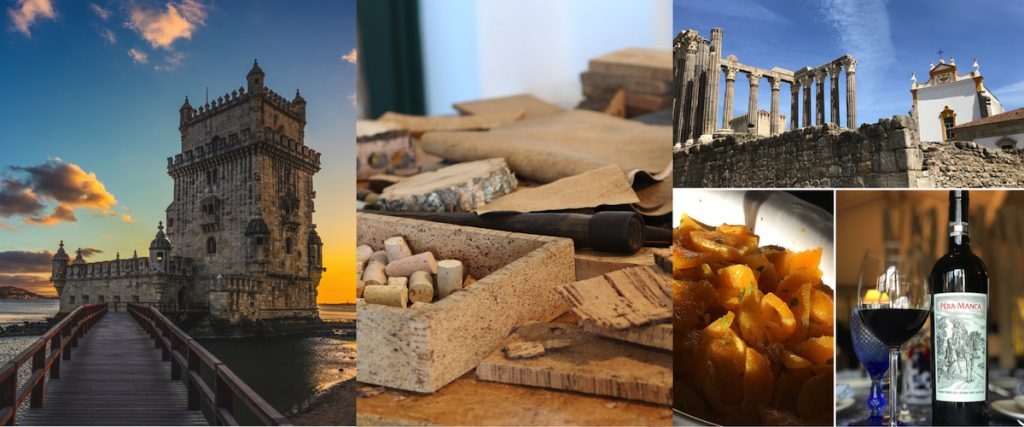 VISITS AND GUIDED TOURS
Lisbon is plural, featuring an incredible mix of now. Vintage trolleys shivering up and down the hills match with multicolored buildings and red-tiled roofs, mosaïc sidewalks, industrial sites transformed into modern street-art living spots, without forgetting monuments (ie : Tower of Belem, Jeronimos Monastery the resting place of explorer Vasco de Gama…) and beautiful squares such as Praça do Comércio surrounded by administrative buildings that regulated the commerce, facing the Taje river. Your first visit will be the Lisboa Story Center. It will gives a good understanding of the city and its history.
You will explore the narrow streets of the charming Alfama, Baixa, and Chiado districts by typical electric TukTuk.
You will visit a market and enjoy a lunch there without missing to taste the Pasteis de Nata, these exquisite warm cream pastry!
Sintra – called the Moon Hill – is a place full of magic and mystery, where Nature and Men have combined such a perfect symbiosis that UNESCO has granted the site at the Word Heritage status. You won't miss the visit to the Castelo da Pena, unique by its architecture and style. Impressing by its size. It was the Royal Family residence…
You will like downtown Sintra, its colorful typical houses, its atmosphere… You will meet merchants, local people and you will certainly enjoy making some « souvenirs » shopping !
Evora is the capital of the Alentejo region, listed at the UNESCO World Heritage. It is one of the most preserved medieval fortified towns in Portugal. Along the walking tour through its narrow alleyways and streets you will discover its fabulous architectural heritage as well as stylish houses with dazzling white flowered terraces, openwork balconies and paved patios. Evora is also an alive students town (you will visit its historic university) and a gourmet spot !
Monsaraz is is a quaint medieval village located at the border of Spain, one of the oldest Portuguese settlements that you will explore quietly by walking. Sounds of church bells fill the cobblestone streets and alleys, and make a fairytale experience too !
Chic Boutique-Hotels accommodation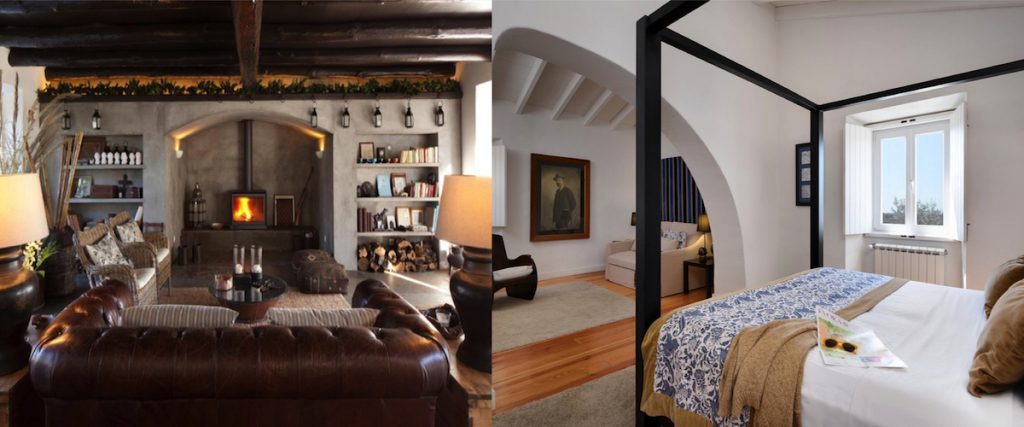 QUINTA ALENTEJANA, EVORA
Located in the outskirts of Evora Unesco listed town, Quinta Alentejana is a 20ha family-run historic estate property offering seven beautifully decorated rooms and suites with all modern comfort.
The small decorative details spread through every corner of this house, making this delightful location, not only a contemplation spot, but also a place of strong inspirational and emotional connection.
In the warm season Quinta Alentejana invites to relaxing walks through its millennial olive grove. After long visiting days, you will be delighted to dine at the property and enjoy traditional meals accompanied by wine.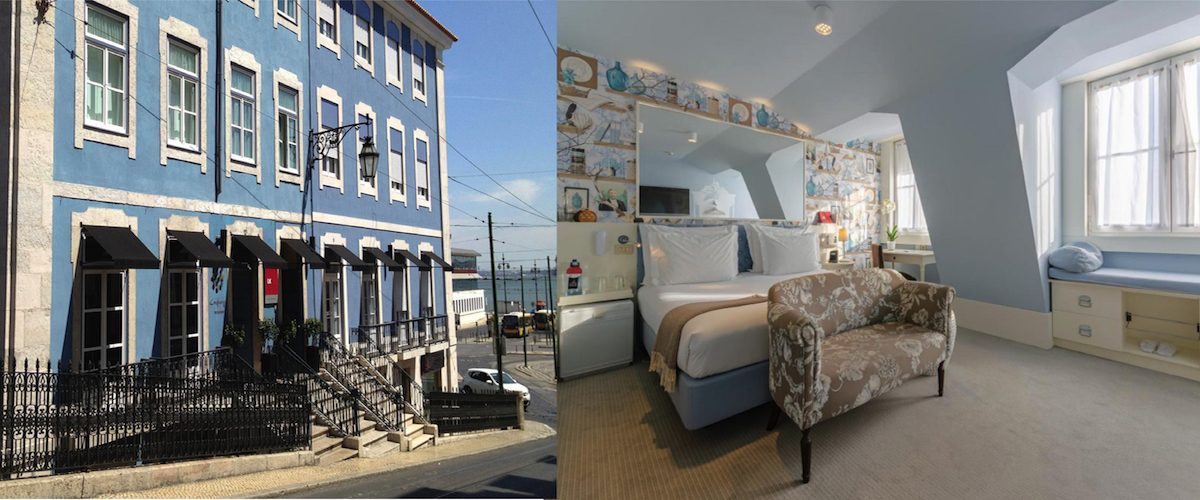 LX BOUTIQUE HOTEL, LISBON
Located in the heart of the triangle between Chiado, Baixa and Cais do Sodré districts, Lx intimate Boutique Hotel offers themed rooms and suites with stunning views over Lisbon and the Taje river. Each room and suite is equipped with air conditioning, mini-bar, and private bathroom. This elegant boutique-hotel is 5 minutes' walk from restaurants, bars, cafés and shops. Historical sites and museums such as Lisbon Cathedral, Praça do Comércio, Igreja de São Roque and the Chiado Museum are within a 10-minute walk.
The lx boutique hotel was reborn from the ashes of the Hotel Bragança, a century-old building in central Lisbon near the Taje river. Fernando Pessoa, one of Portugal's most prominent writers and poets, would take his constitutional walks on the street. The derelict building was renovated as an elegant boutique hotel to offer its guests a true Lisbon experience.
Gourmet Experiences, Food Tours, Cooking Classes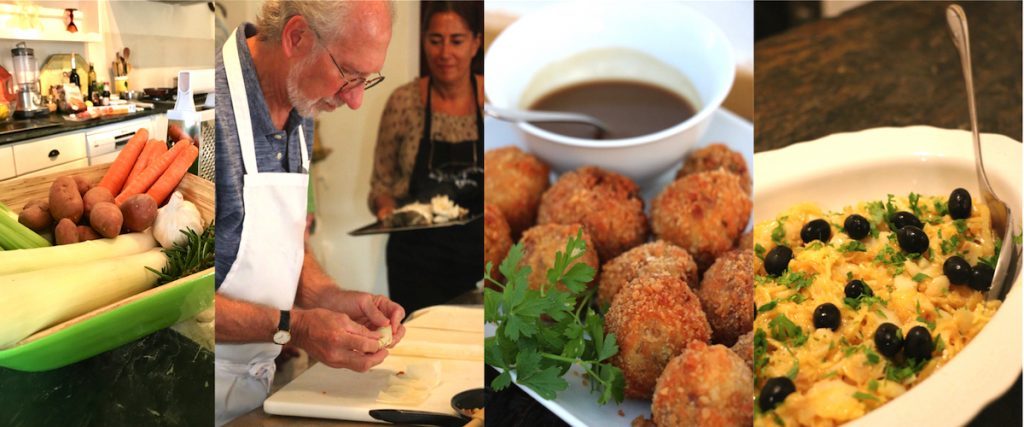 THE PORTUGUESE CUISINE & GOURMET EXPERIENCES
The cuisine of Portugal is straight forward and hearty, matching fish and seafood with meat, and quality-fresh ingredients from the fertile land. Spices such as piri-piri, black pepper, vanilla, cinnamon and saffron are very used; a remembrance to the influence of Portugal's former colonial possessions. Olive oil is the basis of the Portuguese cuisine as garlic and herbs flavor lots of dishes.
Bacalhau (codfish) is more than a traditional dish, it's a national obsession!
Nicknamed "o fiel amigo" (faithful friend), codfish is traditionally served on Christmas Eve in Portugal. There are hundreds of different recipes and versions of this classic, but Bacalhau à Brás is one of the best… combining onions, chips, olives, parsley, egg and, of course, cod. From octopus salad to codfish croquettes, sautéed clams with herbs and garlic, caldo verde vegetables and chorizo soup, cataplana fish stew, chicken in the pot, custard pastry…there is a long, very long list of specialities that you will learn to cook and enjoy throughout your journey!
You will enjoy the flavorful Portuguese cuisine in traditional and Michelin restaurants.
PORTUGAL, ONE OF THE BIGGEST WINE PRODUCTION COUNTRY IN EUROPE
Portugal is also one of the oldest wine production country in the world as Phoenicians probably introduced winemaking to the south, and the Romans spread vine cultivation and winemaking further upcountry as they drove out the northern Celts. Today 14 regions in Portugal produce elegant reds and dry whites.
The Heritage of Portugal Tour features the Alentejo region covering about one third of the country, and winemakers in the remaining 2/3 can often be heard to complain about the popularity of Alentejo wines. Évora, Redondo and Reguengos are more typical of the Alentejo, and can make smooth, harmonious, very easy-drinking reds. The white Antão Vaz is the star grape of the region, with good acidity and tropical fruit flavors.
MARKET TOUR & COOKING CLASSES – VISITS TO WINERIES
This program includes two cooking experiences:
1/ Market Cooking Class in Lisbon,
2/ Cooking Class in Evora.
Both classes are hands-on and taught in English. Within about 3 hours, you will learn how to prepare and to cook a 3-course meal celebrating the Portuguese cuisine. It will include a starter, a main course and a dessert. Food & wine pairing tasting lunch and dinner will follow each class. Menus will consider your likes, dislikes, food restrictions or allergies.
3/ You will visit two wineries in Evora and in Reguengos, among the most reputed ones in Alentejo and in Portugal. Each visit is followed by a wine tasting.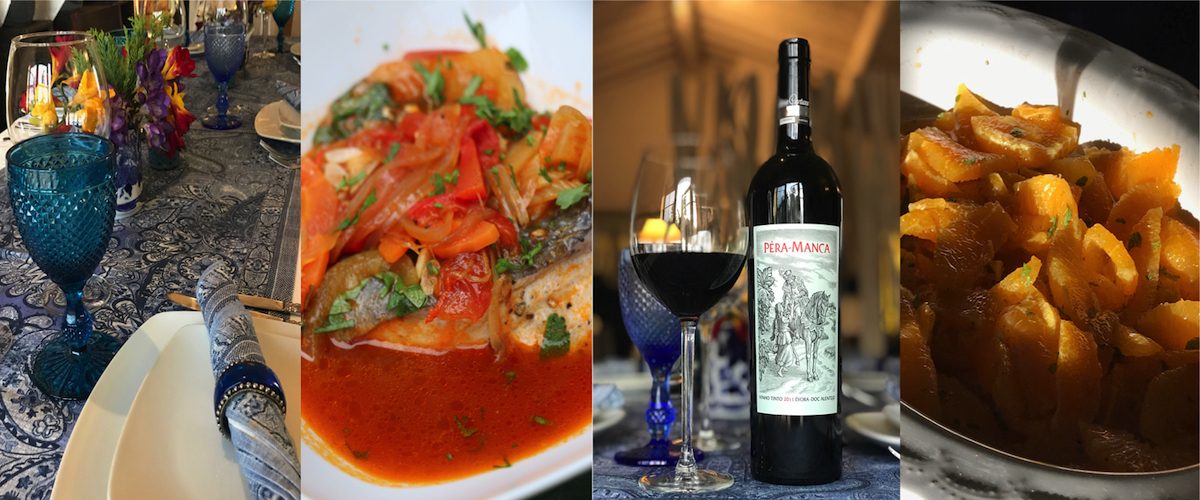 Day 1 – WELCOME TO LISBON & TO PORTUGAL!
Meet Corinne at Lisbon airport.
Transfer to Evora by private van.
Lunch break in Palmela medieval village on the way.
Check-in at Quinta Alentejena luxury boutique-hotel. Resting time.
Dinner at the property. Overnight
Day 2 – EVORA FULL-DAY TOUR
Breakfast at the hotel.
Visit to a high-end winery.
Lunch in a gourmet restaurant in Evora.
Afternoon cultural guided walking tour followed by a visit to a cork manufacture.
Transfer to the hotel. Resting time.
Dinner at the property. Overnight.
Day 3 – ESTREMOZ MARKET, VILA VIÇOSA, COOKING CLASS
After breakfast, transfer to Estremoz (30 minutes) by private van.
Open-air market tour followed by gourmet lunch in a gourmet local restaurant.
Transfer to Vila Viçosa through the marble quarries and visit to the fabulous Bragança Ducal palace.
At 5pm, hands-on cooking class celebrating the traditional Portuguese cuisine at the Quinta followed by a food and wine pairing dinner.
Overnight.
Day 4 – REGUENGOS WINE TOUR & MONSARAZ TOUR
After breakfast, transfer to Reguengos.
Visit to a top-ranked winery starting by a visit to cellars before enjoying wines tasting.
Transfer to Monsaraz medieval village located at the border of Spain. Lunch in Monsaraz.
Afternoon walking tour through the village.
Transfer to Evora. Resting time.
Dinner at the property. Overnight.
Day 5 – TRANSFER TO LISBON THROUGH ARRAIOLOS
After breakfast. Check-out. Transfer to Arraiolos.
Lunch in a local restaurant.
Afternoon walking tour in the village, including the visit to the Museum of embroidered wool carpets (and shopping for who wants…)
Transfer to Lisbon. Check-in at LX boutique-hotel. Resting time.
Dinner in a casual restaurant nearby. Overnight.
Day 6 – MARKET COOKING CLASS IN LISBON, AFTERNOON ECO-TUK TOUR
Breakfast at the hotel.
Market cooking class starting at 9:30am followed by a food and wine pairing tasting lunch. You will experience the shopping with the chef before partaking a 3-hour hands-on class celebrating the traditional Portuguese cuisine. Lunch accompanied by wine follows the class.
Afternoon 2-hour silent and zero-emission Eco-Tuk tour departing from the market to explore the hills of Lisbon through the picturesque quarters, to finish steps to Praça de Comercio, on the Taje river banks.
Dinner in a casual restaurant nearby the hotel. Overnight.
Day 7 – SINTRA FULL-DAY TOUR
After breakfast, transfer to Sintra world heritage village.
Visit to Sintra royal palace.
Lunch in a typical restaurant in Sintra.
Afternoon visit to Palacio de Pena and walking tour through the village picturesque quarter.
Gourmet dinner in Lisbon. Overnight.
Day 8 – LISBON HALF-DAY CULTURAL TOUR
After breakfast, morning tour to Belem quarter (Tower of Belem, Monument of Discovery, Jeronimos Monastery..
Lunch in a typical indoor market.
Afternoon free at your leisure.
Gourmet dinner in a Michelin restaurant.
Overnight.
Day 9 – TRANSFER TO LISBON AIRPORT / END OF THE TOUR
Check-out after breakfast.
Transfer to Lisbon airport. End of the tour.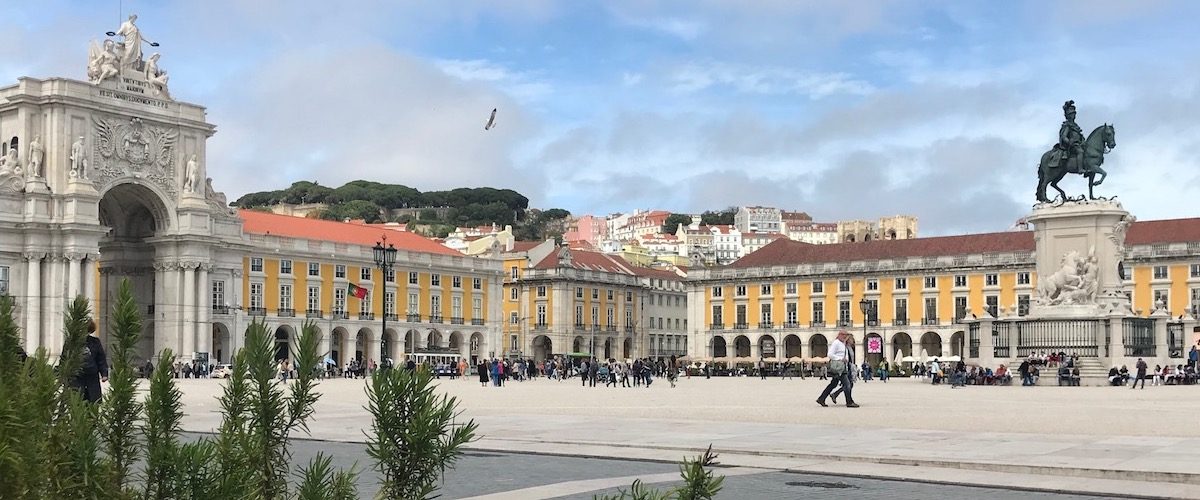 $5,640 per person (DBL occupancy)
Single occupancy supplement: $930
VAT and all taxes included.
Tour price includes:
• 8-night luxury boutique-hotels accommodation, breakfasts included
• Lunches and dinners in traditional, gourmet and Michelin-star restaurants as detailed in the itinerary
• 2 hands-on cooking classes followed by food & wine pairing tasting lunch and dinner
• Recipes in English.
• Guided cultural (and shopping/leisure) tours in Sintra, Lisbon, Evora, Estremoz, Monsaraz
• Visits to cultural sites as detailed in the itinerary (entrance fees included)
• Guided wine tours followed by tasting
• Market tours and visits to local producers as detailed in the itinerary
• 9-day transportation by private van, including Lisbon airport round-trip transfer.
Not included: Airfare to/from your country, wine in restaurants, personal insurance, personal expenses and all which is not listed in "price includes".
---
TOUR DATES
April 20-28, 2023 2 spots left)
September 21-29, 2023 (1 spot left)
April 18-26, 2024 (6 spots left)
Tour is confirmed with 4 people, and it's limited to 6 participants.
Other dates can be added upon request. Please contact us for more information. Thank you.
Considering the limited space in the tour, reservation in advance is highly recommended.