Loire Valley Cooking & Cultural Tour
Cooking with Corinne in the Loire Valley
A CHEERFUL COOKING ADVENTURE IN A ROMANTIC DESTINATION WELL-KNOWN FOR ITS CHATEAUX, SCENIC TOWNS AND GASTRONOMY
7 days / 6 nights
♦ Transfers and transportation by private van
♦ Luxury B&B Property accommodation
♦ Daily breakfasts, lunch and dinners
♦ 3 hands-on cooking classes celebrating the French and Lorie Valley cuisine
♦ Market tour and visit to local producers
♦ Daily cultural guided tours, entrance tickets to the chateaux included
We want to be sure that this tour, the itinerary and the food offered match with your wishes, likes and expectations. Thank you.
We look forward to speaking with you and to welcoming you soon!
Welcome to the Majestic Loire Valley!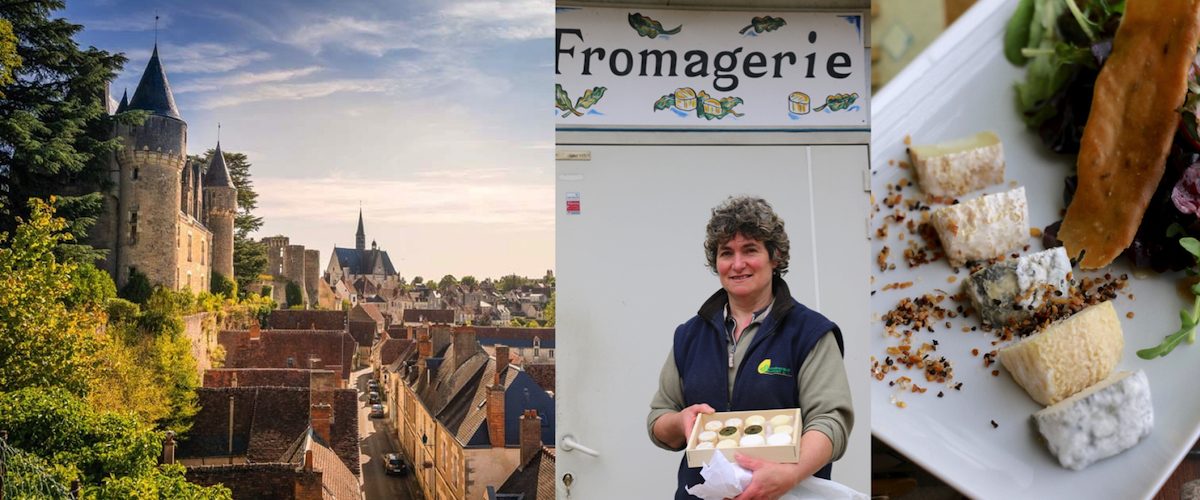 A cheerful culinary adventure combined to a French romantic destination known for its magnificent chateaux, spectacular scenery, and exquisite gastronomy… The Loire Valley is an attractive region for its history, heritage and gastronomy.
Our Loire Valley culinary and cultural tour is a Lifestyle Vacations' exclusivity which includes gourmet and cultural experiences. The tour starts and ends in Tours, one-hour away from downtown Paris by direct TGV train and 1h50 away from/to Paris CDG international airport.
The itinerary includes morning and afternoon cooking classes followed by food and wine pairing tasting lunch or dinner. Each one lasts about 3 hours, and it's taught in English. It leaves half-days for visits and guided cultural tours. You will visit local producers, and experience the food market shopping. Chenonceaux and Amboise Royal Chateaux will be visited in a full-day guided tour.
---
Cooking Classes & Gourmet Experiences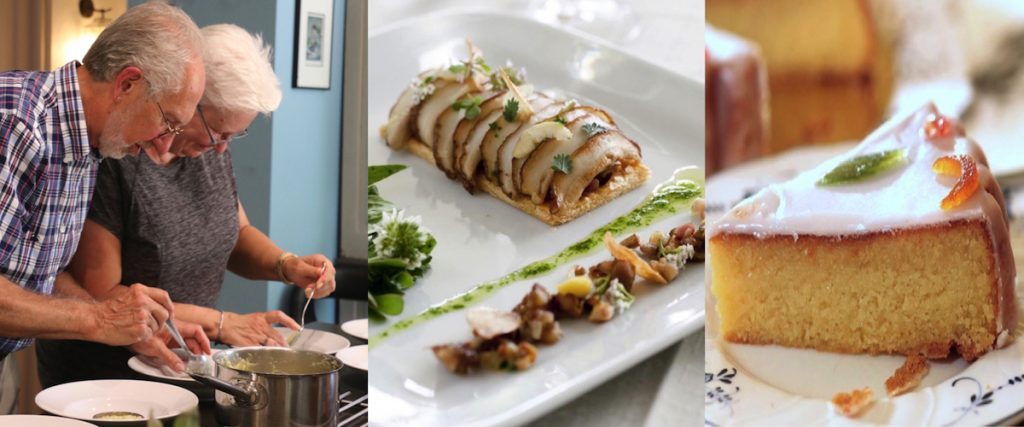 The Loire Valley is well named "the Garden of France", offering superb fresh produce aside to river fish, fowl and cheese displayed on colorful markets. The limestone underground from which the Tuffeau white stone was extracted to build houses, manors and chateaux offer the perfect balance of temperature and humidity to cultivate mushrooms.
Loire Valley, a source of inspiration for the chefs!
The delicious upside-down caramelized apple Tatin, Cremet d'Anjou  – a mix of whipped cream, cottage cheese and whisked egg whites – the famous Pithiviers, a puff pastry pie filled with almond cream… are just a few examples.
The Loire Valley is also reputed for its cheese. The mild local goat cheese such as Selles-sur-Cher, Sainte-Maure-de-Touraine, Valençay will be a part of your meals. Same for the wines. Val de Loire is one of the largest wine regions producing a delectable complement to the gastronomic credentials. Varied soil and climate give a definitive expression of popular wine grapes such as Sauvignon blanc, Chenin blanc and Cabernet Franc. The vineyards are divided into five areas including Touraine with its own wines and varietals. The Loire Valley is France's 3rd largest region in terms of production, and the vineyards are the 4th largest one in the country with 63 appellations (AOC).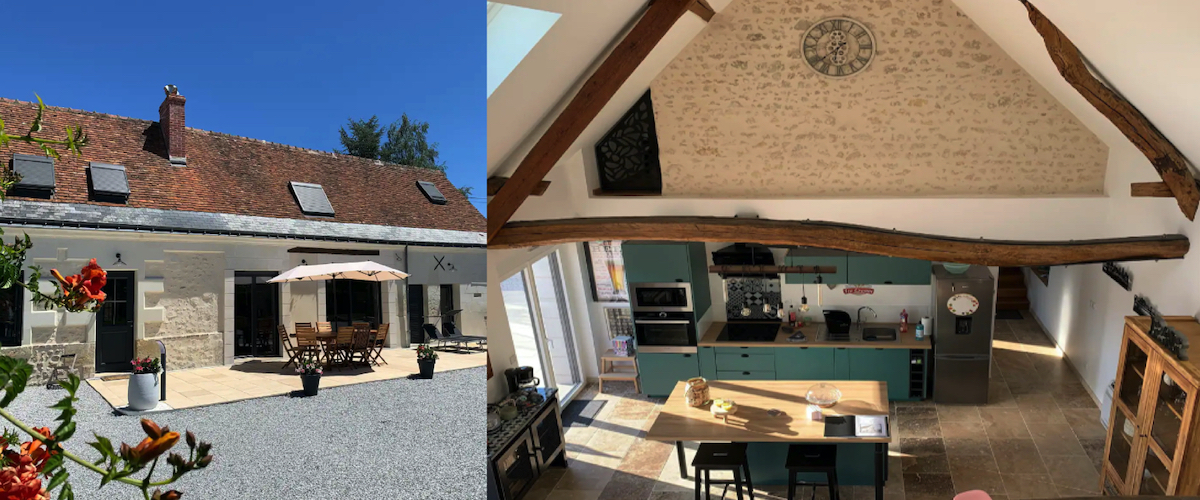 When it's time to cook, join Corinne in her home located in Montlouis well known wine village. You will partake in 3 hands-on cooking classes of about 3-hour each. It's the perfect timing to improve your skills and to learn how to prepare and to cook traditional meals including appetizer, main course, and dessert celebrating the French and the Loire Valley cuisines. Aperitif and tasting lunch or dinner accompanied by wine, mineral water, coffee or herbal tea follows each class.
Sample menus can include a sautéed scallops with an orange sauce, asparagus (if you come in Spring) served with a hollandaise sauce, fish mousse on toasted bread, river fish served with a beurre blanc sauce, chicken supreme with sautéed seasonal vegetables, fruits tart, etc.
---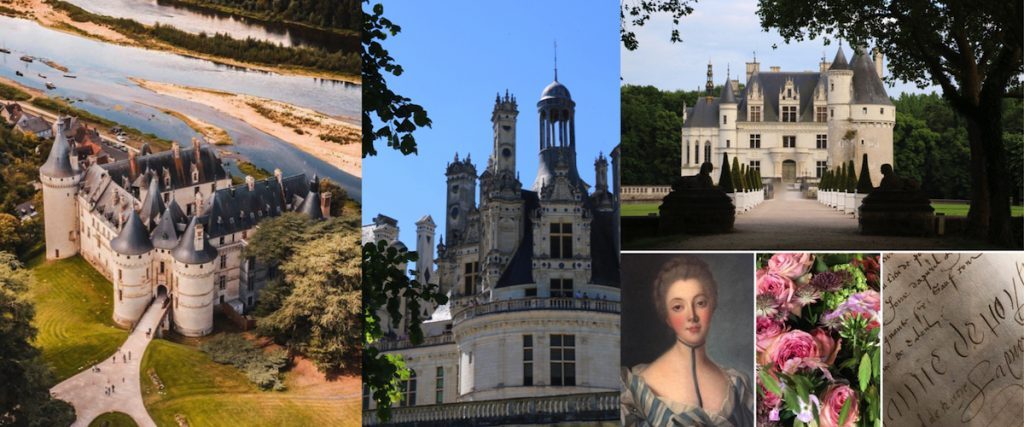 Loire Valley Cooking & Cultural exclusive Tour highlights the history of France through cultural guided tours and visits. You will visit Blois, Chenonceau and Amboise royal Chateaux, Le Clos Lucé, Chaumont and Chambord in addition to the quaint villages to admire on the way. You will have time free at your leisure for shopping in Blois and in Amboise.
Chateau of Blois which was King Louis XII and Queen Anne of Brittany residence at the 15th century, then of King Francis the First and Queen Claude de France, before being the scene of the murder of the Duke of Guise by the guards of King Henri III, and the death place of Queen Catherine de Medici. Joan of Arc came to Blois in 1429, asking the Archbishop of Reims to bless her before she departed with her army to drive the English from Orleans.
Chateau of Chenonceaux sitting over the Cher river is the "Ladies Chateau" as it owes a large part of its charm to women. It was built in 1513 by Katherine Briconnet, then made even more attractive by Diane de Poitiers and Catherine De Medici, and saved from the rigors of the French Revolution by Mrs Dupin. The chateau is surrounded by very pretty formal gardens.
Chateau of Amboise (combined with the nearby Clos Lucé) is inextricably linked to the history of France, from the 15th to the 19th century, well-known as King Charles VIII and Queen Anne of Brittany's residence. Amboise gained international recognition thanks to King Francis I twenty years after the death of Charles VIII. Upon Francis I's invitation, the Italian genius Leonardo Da Vinci retired in Amboise in 1516. He packed his bags (and several of his favorite paintings including the Mona Lisa) and spent the last three years of his life in the Clos Lucé manor, which was Francis I childhood residence. Leonardo Da Vinci is buried in the Royal Chapel of the Chateau of Amboise, as the Clos Lucé is a must-seen museum featuring Leonardo's residence as well as his fabulous inventions and works of art.
Chateau of Chambord, considered as France's biggest chateau after Versailles is a pure Renaissance-style jewel, the witness of King Francis I power, support and taste for the arts. The French King used it as a hunting lodge and only stayed there a few days of his life…
Chateau of Chaumont-sur-Loire was the property of Catherine De Medici, Diane de Poitiers and Princess de Broglie. It's known for its poetry due to the numerous arts exhibitions hosted and especially for its international Garden Festival scheduled from April through November, each year.
Chateau of Villandry and its stunning Gardens. Built at the 16th century, the chateau combines the Italian and Middle Ages architecture. It prefigures the French classical style, also known as the Henry IV style. Villandry features manicured Renaissance gardens, among the most fascinating ones you could have seen: ornamental gardens, water garden, herb garden, and kitchen garden.

---
Luxury B&B Property Accommodation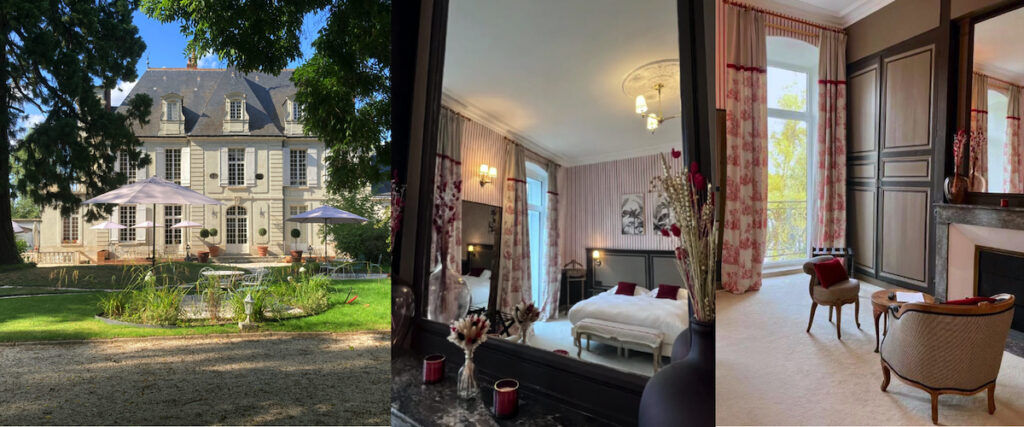 Our Cooking Vacation program includes a luxury accommodation centrally located in the Loire Valley and its prestigious Royal chateaux, and 2 miles away from Corinne's home and the cooking school where you will partake in cooking classes and enjoy delicious food and wine pairing meals, aside to gourmet experiences in Michelin-star restaurants. Daily transportation from/to the B&B is provided and included in the tour price.
You will find the best comfort in this stylish 19th century fully renovated Manor overlooking the Loire Valley and nestled in a remarkable tree-shaded park. The property offers 4 beautifully decorated suites furnished with antiques; each one has its private toilets and bathroom with bathtub or walk-in shower.
---
Day 1 (Sunday) : Welcome to the scenic Loire Valley
Tours TGV train station private transfer to the B&B.
Afternoon check-in and resting time.
At 6pm, transfer to Corinne's home to enjoy a Welcome Aperitif & Dinner.
Overnight.
Day 2 (Monday) : Chaumont (village, chateau & gardens) – Private Cruise on the Loire river w/picnic lunch – Cooking class followed by dinner
After breakfast, meet Corinne at the B&B.
Transfer to Chaumont-sur-Loire to visit the chateau and its gardens.
At noon, at the port of Chaumont, you will board on a futreau traditional wood boat to enjoy a 2-hour cruise on the Loire river including a picnic that Corinne would have prepared.
At 4pm, join Corinne in the kitchen to partake in your first cooking class celebrating the Loire Valley cuisine. Food and wine pairing tasting dinner follows.
Overnight.
Day 3 (Tuesday) : Amboise and Chenonceaux Full Day Cultural & Gourmet guided Tour 
After breakfast, transfer to Amboise.
Visit to the royal Chateau and time free for shopping in town.
Visit to Le Clos Lucé (a tribute to Leonardo Da Vinci).
Lunch in Amboise.
Transfer to Chenonceaux.
Visit to Chenonceau royal Chateau & Gardens (King Henri II, Queen Catherine de Medici and Diane of Poitiers' former residence).
Dinner at Corinne's home.
Overnight.
Day 4 (Wednesday) : Tours market & Shopping – Visit to a Winery – Cooking Class followed by dinner
After breakfast, transfer to Tours.
Marketplace tour and shopping in the historic quarter.
Time free at your leisure before lunch in town.
Afternoon visit to a winery in Montlouis-sur-Loire
At 4pm, join Corinne in the kitchen to partake in your second cooking class celebrating the French traditional cuisine. Food and wine pairing tasting dinner follows the class.
Overnight.
Day 5 (Thursday) : Cooking Class followed by lunch – Villandry chateau & remarkable gardens tour
After breakfast, transfer to Corinne's home and cooking school.
Cooking class starting at 10am followed by tasting lunch.
Transfer to Villandry (guided visit to the Renaissance chateau and gardens).
Dinner at Corinne's home
Overnight.
Day 6 (Friday) : Blois and Chambord guided tour – Michelin-star Lunch
After breakfast, transfer to Chambord.
Visioguided tour of the largest Loire Valley Renaissance chateau. Time free in the gardens.
Michelin-star lunch in Blois
Blois afternoon walking tour through the historic quarter and visit to the chateau then.
Light dinner at Corinne's home
Overnight.
Day 7 (Saturday) : Transfer to Tours TGV station. End of the tour
After breakfast, check-out.
Transfer to Tours TGV train station.
End of the tour.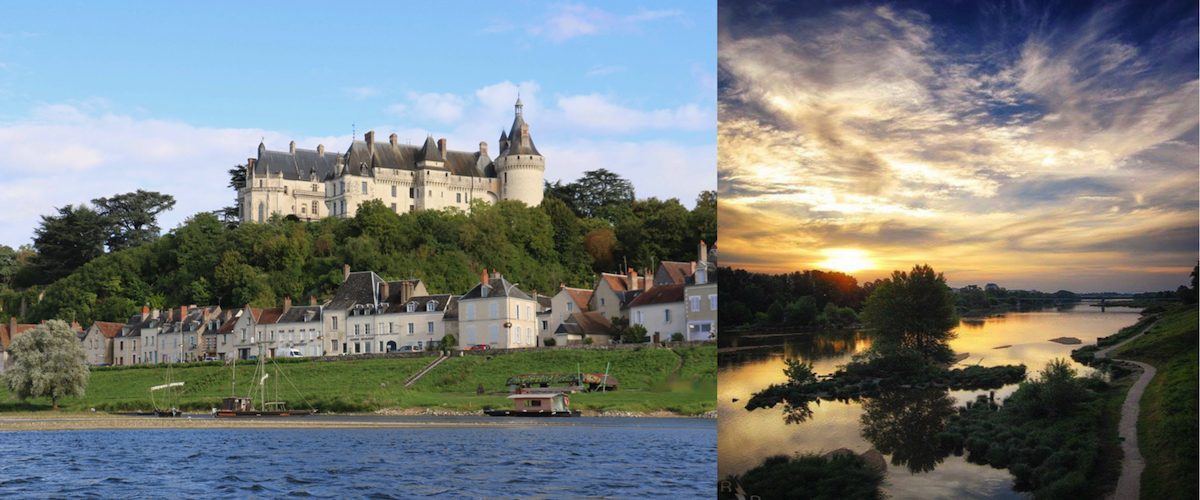 Starting at $4,670 per person (DBL occupancy)
Single occupancy supplement: $450
VAT and all taxes included.
Price includes:
♦ Tours train station round-trip transfer and transportation for visits and tours
♦ 6-night luxury B&B property accommodation
♦ Loire River cruise with a picnic abord
♦ 2 hands-on Cooking Classes
♦ Market Cooking Class
♦ Daily Breakfasts, Lunches and Dinners as detailed in the itinerary
♦ Visits to local Producers
♦ Cultural guided Tours, entrance tickets to the chateaux included
Not included: airfare from/to your country, train tickets, wine in restaurants, personal expenses, personal insurance and all which is not listed in "price includes".
---
TOUR DATES
September 22-28, 2024
Other dates are offered upon request. Please contact us to check the availability. Thank you.
This tour is confirmed with 2 people, and it's limited to 6 participants. Reservation in advance is strongly recommended.