Cooking with Corinne in Bordeaux
Bordeaux Cooking and Wine Tour
Exclusive Culinary Adventure in Bordeaux and the Aquitaine region combining Cooking classes, Expert-led Wine Tours, Cultural visits and Gourmet experiences.
6 days / 5 nights
♦ Luxury private Villa accommodation
♦ Daily breakfasts, lunches and dinners
♦ Hands-on Cooking classes and Expert-led wine Tours
♦ Cultural guided tours
♦ Private transfers and transportation by SUV car or Mercedes van.
Before booking this tour,
please contact Corinne at +33(0)626 815 015 (WhatsApp)
We want to be sure that this tour, the itinerary and the food offered match with your wishes, likes and expectations. Thank you.
We look forward to speaking with you and to welcoming you soon!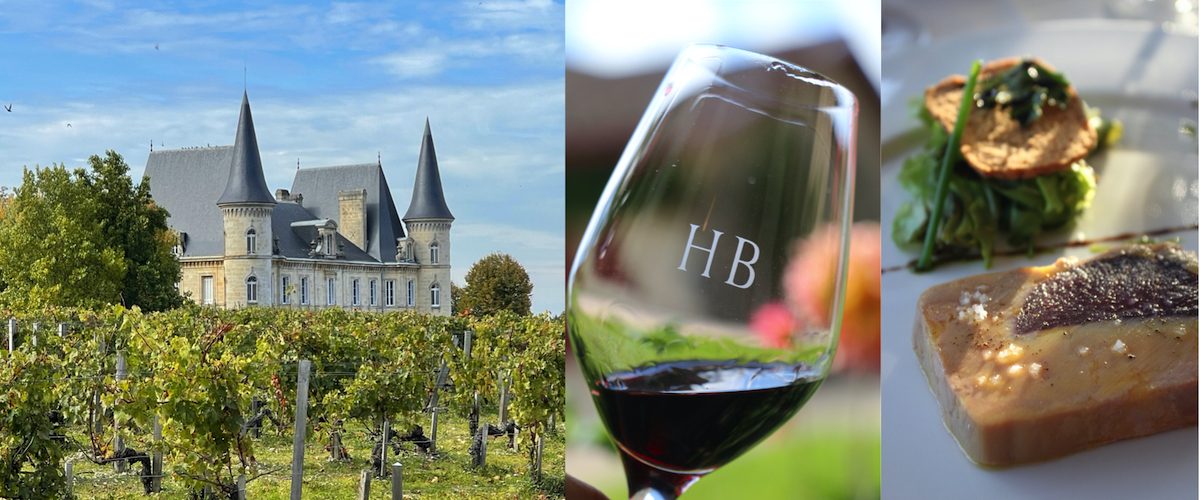 Bordeaux is the fifth largest city in France and also one the most prestigious Aquitaine region thanks to legendary vineyards and chateaux. The situation between the Garonne and the Dordogne river on one side and to the Atlantic coast on the other side offer the Aquitaine and Bordeaux an extremely lucrative trade which contributes to make merchants and winemakers fortunate. The chateaux amidst the vineyards and the luxurious mansions are the witness of this glory.
You have chosen to discover Bordeaux for its gastronomy. In addition to the vineyards you will visit and the wines you will taste, you will experience the Southwest cuisine through hands-on cooking classes; a cuisine which is largely inspired by neighboring Périgord (foie gras, duck, walnuts, truffles, etc.) in addition to the fish and seafood from the Atlantic. The freshest vegetables and fruits displayed on the markets balance with the rich local cuisine.
Cooking with Corinne in Bordeaux tour includes daily cooking classes, visits to wineries and local producers, gourmet experiences in traditional restaurants, luxury private villa accommodation amidst the Graves vineyards, Bordeaux airport or Saint-Jean train station round-trip transfer and transportation by private van or car.
• You are a foodie traveler, and you are keen to experience the French Southwest cuisine and the finest Bordeaux wines
• You are interested in history, traditions and French culture
• You look for a private or a small group tour
→ Cooking with Corinne original Bordeaux culinary ∼ and cultural ∼ tour is designed for you!
---
Cooking Classes and Gourmet Experiences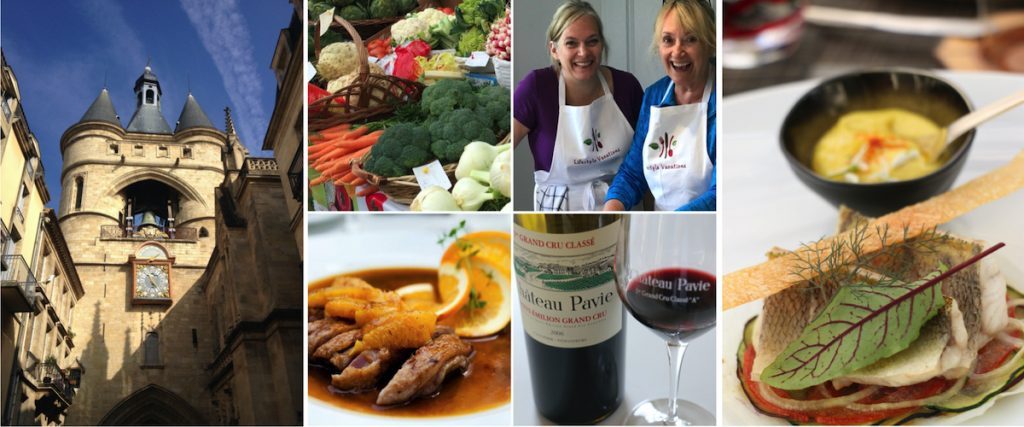 Join Corinne in the kitchen to experience the French and Southwest traditional cuisine through daily hands-on cooking classes taught in English scheduled in the morning or in the afternoon. Corinne's recipes are simplified for home cooks and include fresh seasonal ingredients that you will be able to find in your country. For your comfort, cooking classes are run in La Villa des Graves spacious kitchen.
What are you going to cook? The southwest cuisine celebrates the countryside traditions. Menus are well balanced and created according to your likes, dislikes, food restrictions or allergies you would have mentioned when you register for this journey. It can include a foie gras creme brulée, chestnut and foie gras velouté, escargots and mushrooms pastry, truffle scrambled eggs, beef fillet with wine sauce and seasonal vegetables, fish fillet with a beurre-blanc sauce, seasonal fruits clafoutis, soufflé, walnut cake, poached fruits in red wine, caramelized apple tart, etc. You will of course enjoy the local mild cheese served with a walnut oil dressed green salad. Coffee are accompanied with Armagnac or walnut liquor.
Each day will be a fest!
Aside to your cooking lessons, you will experience the market tour and shopping, visits to local producers including a duck farm. You will enjoy the French cuisine in gourmet restaurants.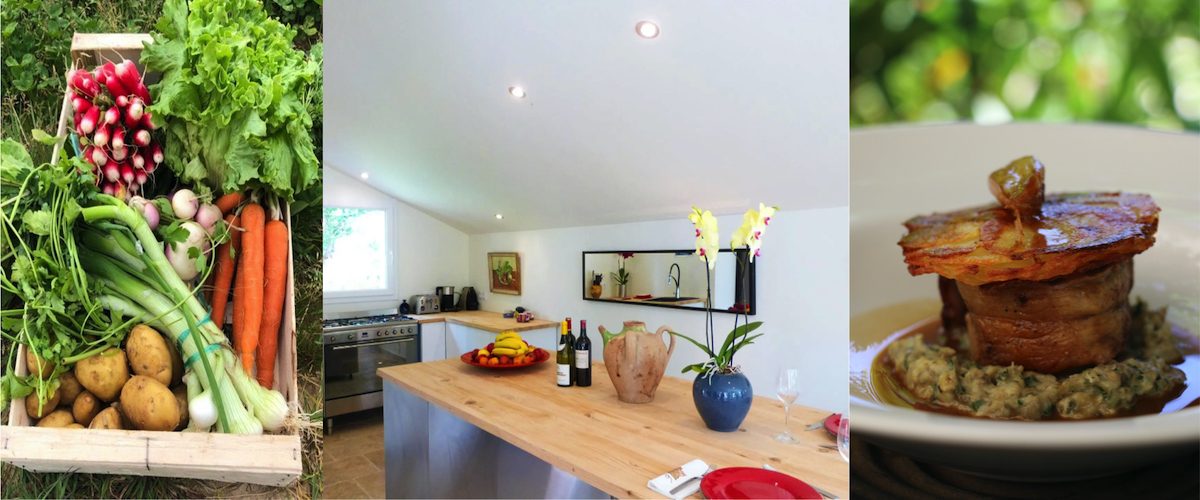 PREMIUM CHATEAUX GUIDED VISITS & CULTURAL TOURS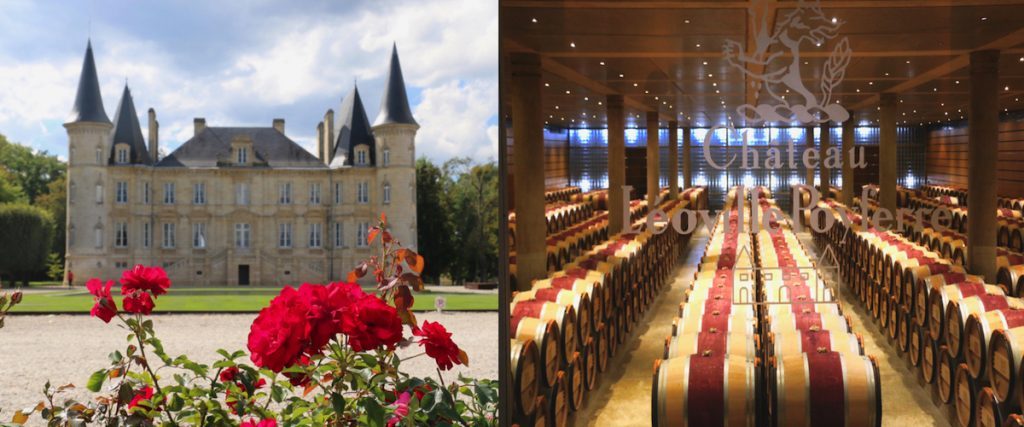 From the Médoc to Saint-Emilion, Entre-Deux-Mers, Graves and Sauternes, the vineyard of Bordeaux spreads over 295.000 acres and encompasses 65 appellations and more than 7000 individual estates. Yet Bordeaux gained international recognition thanks to the prestigious chateaux such as Mouton Rothschild, Margaux, Cheval Blanc, Latour, Pavie, Yquem, etc. In Médoc, Graves and Sauternes wine regions, you will learn about the 1855 classifications relaying to Paris Universal Exhibition. In 1855, Napoleon III asked a panel to break the region's wines down by price (therefore, hopefully, quality as well). These 1855 classifications were never meant to be an official quality roster but remain mostly unchanged at today.
Lifestyle Vacations culinary tour features Premium wine tours to the Médoc (Saint Julien, Pauillac, Margaux…),  Saint-Emilion and the Graves including visit to Grands Crus Classés chateaux (ie: Trolong-Mondot, Léoville Poyferré, Lascombes, Haut Bailly…). Each visit is followed by finest wines tasting. You will experience the best that legendary Bordeaux region has to offer and enjoy Grand Cru Classé wines among the world's best ones.
You will visit BORDEAUX historic quarters and SAINT-EMILION medieval village listed at the Unesco. You will also enjoy a tour to the CAP FERRET, a typical village on the shores of the Bassin d'Arcachon reputed for its oysters farms.
Private Villa Accommodation in the outskirts of Bordeaux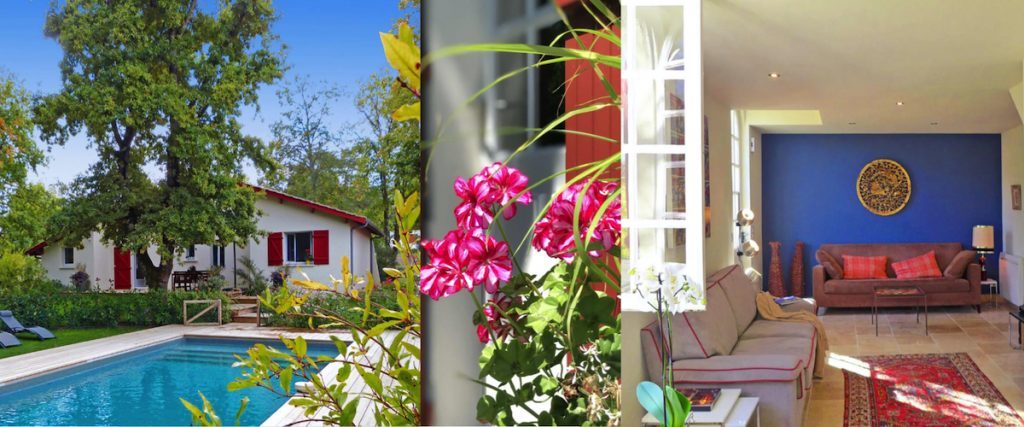 Welcome to La Villa des Graves, a luxury fully renovated 1920's villa, fifteen minutes away from downtown Bordeaux, in the heart of the prestigious Graves vineyards featuring Haut Bailly, Haut Brion and Smith-Haut-Laffite grands crus chateaux. The villa offers 3 spacious beautifully decorated rooms furnished with stylish antiques; each with its private bathroom and toilets. Amenities include air-conditioning, free WiFi, hairdryer and toiletries.
Villa des Graves is surrounded by a magnificent tree-shaded garden with a heated pool and a terrace to enjoy the aperitif and lunches if the weather allows.
You will enjoy daily home-made breakfasts, several luncheons and dinners prepared with local fresh produce from the farmers markets. Daily continental breakfasts include tea or coffee, juice, fresh fruits salad, brioches or croissants, crispy bread, butter and home-made jams, cheese, ham, etc. Breakfasts are served in the dining room.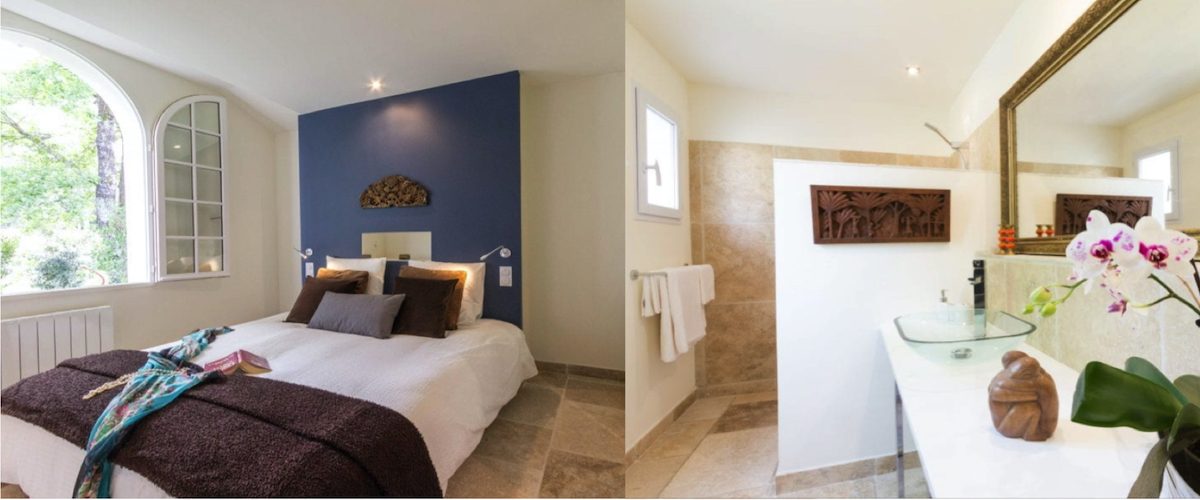 Day 1 ∼ Welcome to Bordeaux – Graves Wine Tour
Early afternoon pick up at Mérignac airport or Bordeaux Saint-Jean train station
Private transfer to Villa des Graves. Check-in.
Welcome drink and snack. Relaxing time.
Visit to Chateau Smith Haut-Lafitte or similar steps to the villa.
Aperitif followed by food and wine pairing dinner in Villa des Graves.
Overnight.
Day 2 ∼ Saint-Emilion cultural and wine tour – Cooking Class
After breakfast, transfer to Saint-Emilion.
Expert-led visit to Chateau de Ferrand or similar
Lunch in Pomerol.
Saint-Emilion medieval village guided walking tour.
Time free at your leisure for shopping and/or relaxing.
Late afternoon transfer to Villa des Graves.
Dinner in Villa des Graves.
Overnight
Day 3 ∼ Market Cooking Class – Medoc Wine Tour
After breakfast, transfer to Leognan to experience the market.
Morning Cooking class starting at 10:30am followed by lunch.
Afternoon transfer to the Medoc.
Expert-led visit to Château Leoville-Poyferré or similar.
Transfer to Villa des Graves.
Dinner in Villa des Graves.
Overnight.
Day 4 ∼ Cooking Class – Cap Ferret food walking tour followed by tastings
After breakfast, join Corinne in the kitchen to partake in the third Cooking class in the Villa followed by tasting lunch.
Early afternoon transfer to the Basin of Arcachon.
Cap Ferret walking tour starting at 4:30am. You will stroll across the oyster farming picturesque villages, meet local producers and enjoy seafood tastings. The tour lasts about 3 hours. It's followed by oysters, shrimps, fish pâté with toasts and wine tastings.
Transfer to the Villa.
Overnight
Day 5 ∼ Cooking Class – Bordeaux guided walking tour.
After breakfast, join Corinne in the kitchen to partake in the fourth and last Cooking class in the Villa followed by tasting lunch.
Afternoon guided walking tour in Bordeaux.
Transfer to Villa des Graves. Resting time.
Gourmet dinner in Bordeaux.
Overnight
Day 6 ∼ Transfer to Merignac airport or to Bordeaux Saint-Jean train station – End of the tour.
After breakfast, morning transfer to the airport or train station.
End of the tour.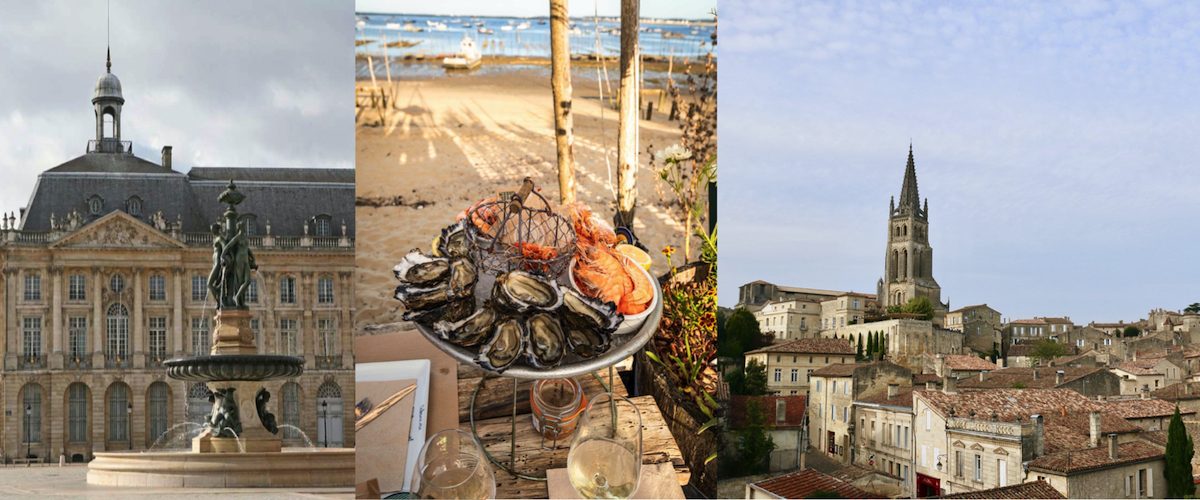 $5,295 per person
All taxes and VAT includes.
Price includes :
– Bordeaux airport or train station round-trip transfer and transportation by private car or van,
– 5-night private villa accommodation,
– Daily continental breakfasts, lunches and dinners as detailed in the itinerary,
– Hands-on cooking classes celebrating the French and South-West cuisines,
– Recipes in English,
– Expert-led wine tours
– Bordeaux, Saint-Emilion and Arcachon guided tours.
Not included : airfare to/from your country, personal insurance, personal expenses, wine in the restaurants, and all which is not included in "price includes".
---
2024 TOUR DATES
May 3-8 (4 spots left)
Other dates can be offered upon request. Please contact us for availability, additional information and assistance. Thank you.
Tour is confirmed with 2 people and it is limited to 6 participants. Reservation in advance is strongly recommended.