NORMANDY AND BRITTANY HERITAGE CELEBRATING HISTORY, ARTS & CULINARY TRADITIONS
Normandy & Brittany Heritage Tour
Indulge in Normandy and Brittany culinary traditions, history and lifestyle through our original cultural and gourmet tour featuring Honfleur, Bayeux, D-Day sites, Mont-Saint-Michel, Vannes, Pont-Aven, Quimper.
7 days / 6 nights
– Chic B&B and private Villa Accommodations
– Market Cooking Classes
– Visits to local producers and Gourmet experiences
– Cultural guided Tours
– Transportation by car or van, departing from Paris
Before booking this tour,
please contact Corinne at +33(0)626 815 015 (WhatsApp)
We want to be sure that this tour, the itinerary and the food offered match with your wishes, likes and expectations. Thank you.
We look forward to speaking with you and to welcoming you soon!
Welcome to Normandy and Brittany!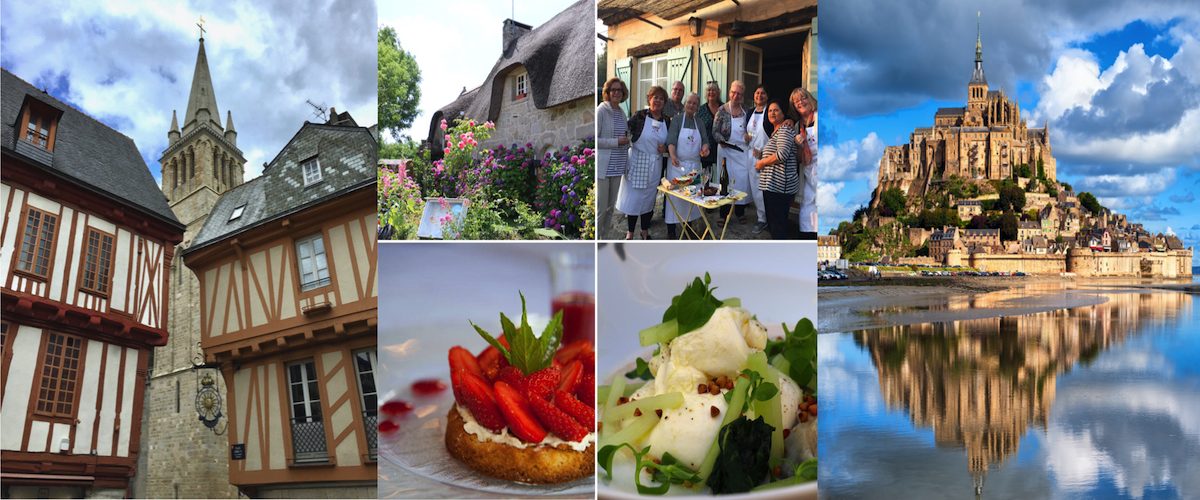 Join us to explore Normandy and Brittany millenary history featuring an unparalleled heritage with remarkable sites to visit and strong culinary traditions.
Lifestyle Vacations France original cultural and gourmet tour includes Bayeux, D-Day sites, Honfleur, Pays d'Auge quaint villages, Caen, Mont-Saint-Michel, Vannes, Quimper and Pont Aven.
Normandy and Brittany are two regions close to each other but also different. Close geographically and historically as under English domination in the Middle-Age. Different in landscapes, climate, culture, traditions and cuisine. Bordered by the English Channel and the Atlantic, Normandy and Brittany were shot to the sea always, forming generations of sailors, navigators and explorers. These regions claim the values of their terroir, agricultural wealth, and little ports where the best fish and shellfish arrive each day.
Normandy and Brittany Heritage is a Lifestyle Vacations' exclusive tour including an itinerary that Corinne Preteur has designed personally. Departing from Paris, this tour includes a luxury B&B and a private villa accommodation, guided cultural and food tours, visits to local producers, one market cooking class and gourmet experiences in traditional restaurants. The tour is guided by Corinne Preteur personally.
Luxury B&B and Private Villa accommodation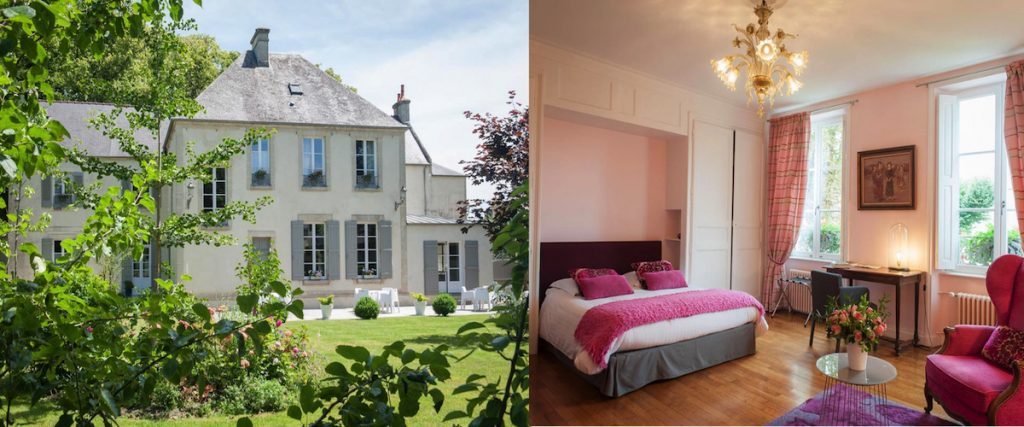 Luxury B&B accommodation in Bayeux
The Manoir des Tilleuls is a 18th-century entirely renovated property centrally located in Bayeux historic quarter, steps to the cathedral and tapestry museum. This intimate boutique-hotel only offers 5 spacious bedrooms all elegantly decorated and furnished with stylish antiques while providing all modern comfort. Each room has its private en-suite bathroom and toilets. Although the property is in town, it overlooks a manicured tree shaded garden where you will appreciate to rest after a daily tour.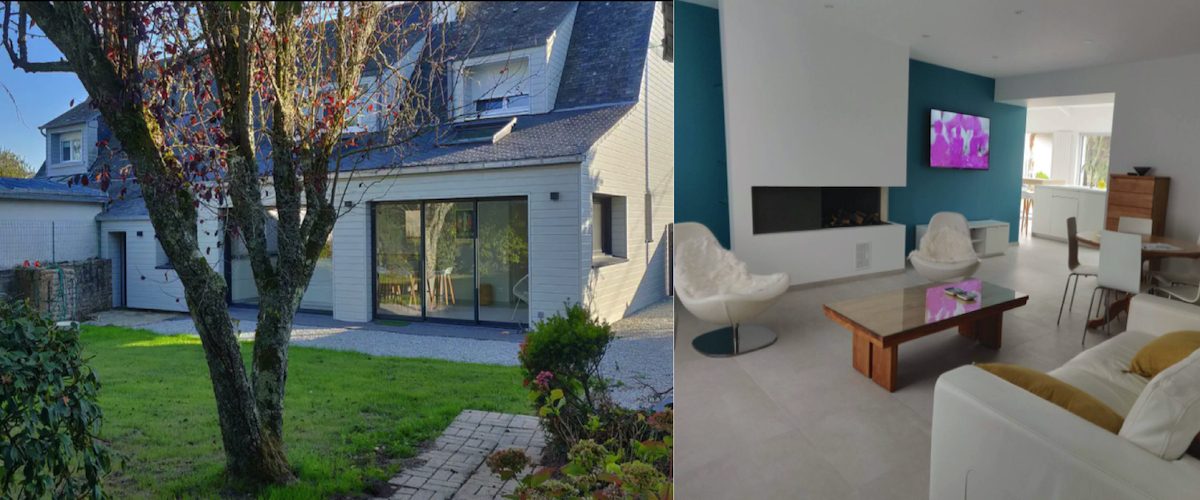 La Villa d'Etel in Morbihan (Brittany)
The south of Brittany is a big region to explore and the most interesting sites are far from each other. Etel is not only a village but also a blessed natural site… a river which splits the land, draws meanders, folds and wild ponds to the rhythm of the tides. Your home in Brittany is located in one of villages which surrounds this site of exceptional beauty. Etel is less than 30 minutes away to Vannes on one side, Quimper and Pont Aven on the other side. Welcome to La Villa d'Etel, a newly renovated villa that we have chosen for its comfort and central location. It offers 2 spacious bedrooms with queen beds, both with en-suite bathrooms (shower) and modern amenities. Its relaxing living room, opened to a garden and terrace where dinners can be served at the warm season, will be highly appreciated after long days of visits. The Villa has a free Wi-Fi connection.
You will enjoy daily home-made breakfasts including freshly baked baguettes, croissants or brioches, eggs, ham and cheese, Brittany butter, honey and jams.
Normandy & Brittany Cuisine ∼ Cooking Class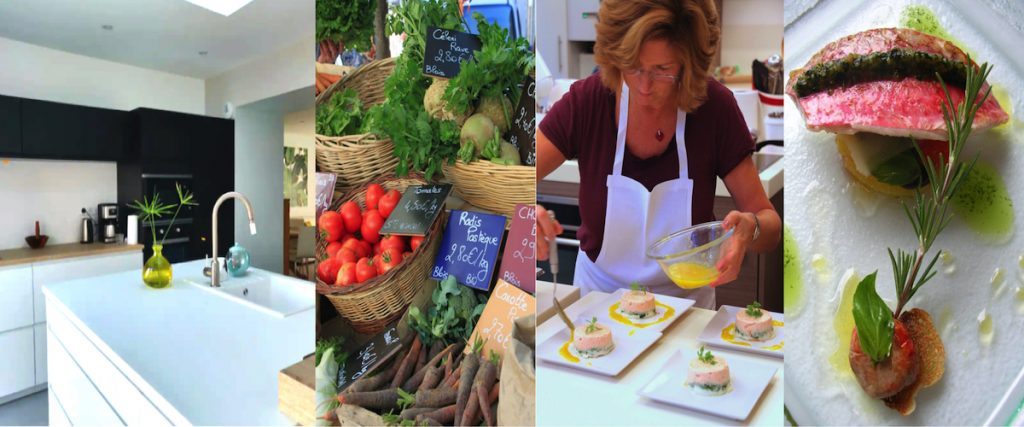 Normandy and Normandy regions, bordered by the Channel sea and the Atlantic Ocean, offer a large variety of fish and seafood but also varieties of fruits and vegetables produced in the countryside. Farms spread over the whole territory raising cows for dairy produce. Rural areas welcome numerous artisans who keep the traditions precious and alive. You will find a cider farm, meet local producers in their farms and on the food market. Five minutes away from "your home in Brittany", sets one of the top-ranked pastry and chocolate shop.
The Breton and the Norman cuisines are made with tasteful produce, fish and seafood, meat (especially lamb and pork), buckwheat crepes filled with sautéed vegetables or ham and cheese or salmon and whipped cream… but not only. You will be spoiled with its delicacies such as the plums milky cake "far breton", buttered cake "quatre-quarts" and of course the "kouign amann", a crusty cake which is made with bread dough containing layers of butter and sugar folded in, similar in fashion to puff pastry.
Experience the market cooking class with Corinne
On Wednesday morning, you will experience the food market tour and shopping in Vannes which is as large as beautiful.
You will meet and discuss with the merchants offering organic vegetables and fruits, fish and seafood of all kind, etc.
After the market tour, you will visit the Gulf of Morbihan and enjoy the oysters & white wine aperitif before having lunch in a local restaurant nearby. Back to La Villa d'Auray, it will be time to cook in the late afternoon! You will tight your apron and cook with Corinne a typical Breton 4-course dinner that you will enjoy with fine wines afterwards.
Normandy and Brittany Heritage itinerary includes major cultural sites to explore, such as: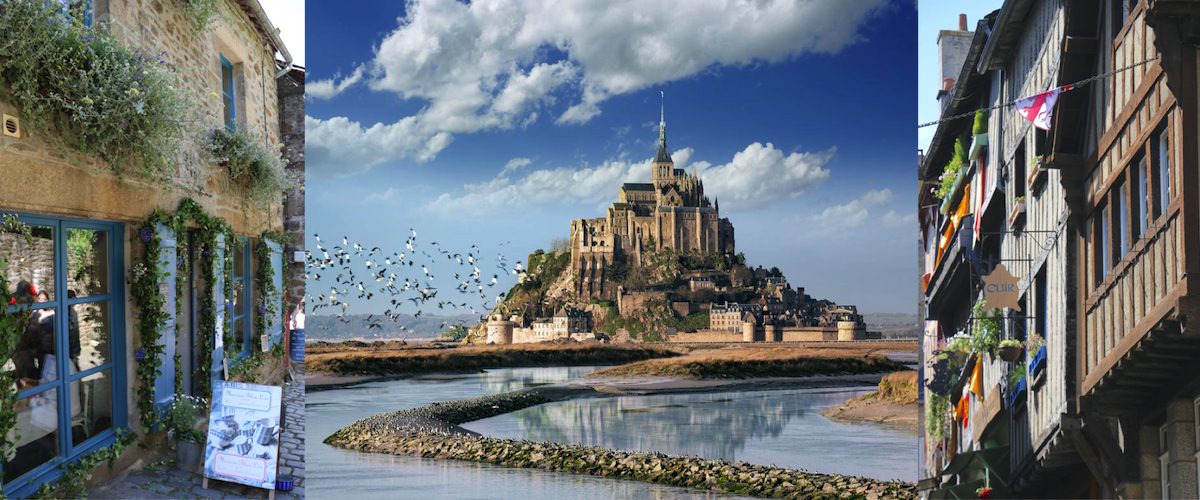 Honfleur is as historic as artistic. One of the major port at the 17th century, this little seaside town features remarkable architectural heritage still today with its inland harbor lined with slate-covered frontage houses, an impressing former salt storage building "Grenier à Sel", narrow cobble-stone streets with antique and designer shops, art galleries, and very good restaurants. Honfleur is the birth place of Eugene Boudin, 19-year older than Monet, one of the most influencing impressionist master who was the first one to take his easel outside and paint the landscapes live.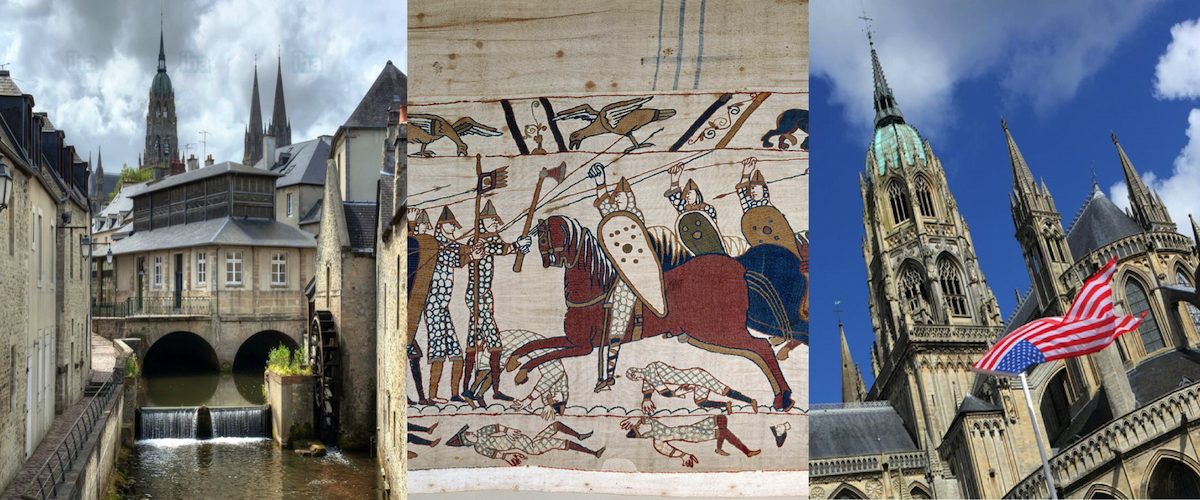 Bayeux is a charming little town of 15000 inhabitants located 6 miles away to the D-Day sites. During the world War II, Bayeux was extremely fortunate to avoid most of the destruction and tragedy following D-Day that other Normandy towns such as Caen suffered. By chance, visitors can today enjoy a beautifully preserved town with typical streets, medieval houses, water mills, and cathedral. But the attraction is linked to the middle-ages with the world-famous Unesco-listed tapestry depicting the Norman conquest of England in 1066. This exceptionally ambitious piece of craftsmanship, measuring over 230ft (70m) in length, was most likely ordered by William the Conqueror's half-brother, the warring Bishop Odo of Bayeux.
Pays d'Auge with its stunning villages are popular for dairy and cider farms, brandy distilleries, without forgetting its authentic half-timbered villages.
Mont-Saint-Michel medieval UNESCO site. A magical island topped by a gravity-defying medieval monastery, the Mont-Saint-Michel counts among France's most stunning sights. For centuries one of Europe's major pilgrimage destinations, this holy mount including its breathtaking bay is a UNESCO World Heritage Site. At least a half-day is necessary to visit the Mont Saint-Michel and the abbey.
D-Day sites stretch from Utah Beach to Sword Beach west to east. The fifty-four miles of coast are littered with WWII museums, monuments, cemeteries and battle remains left in tribute to the courage of British, Canadian and American armies that successfully carried out the largest military operation in history: D-Day. On these serene beaches, at the crack dawn on June 6, 1944, the Allies finally gained a foothold in France. From this moment, Nazi Europe was destined to crumble. You will visit Omaha Beach, Pointe du Hoc and the WWII Normandy American Cemetery and Memorial, the resting place for nearly 10,000 Americans who died on the nearby beaches.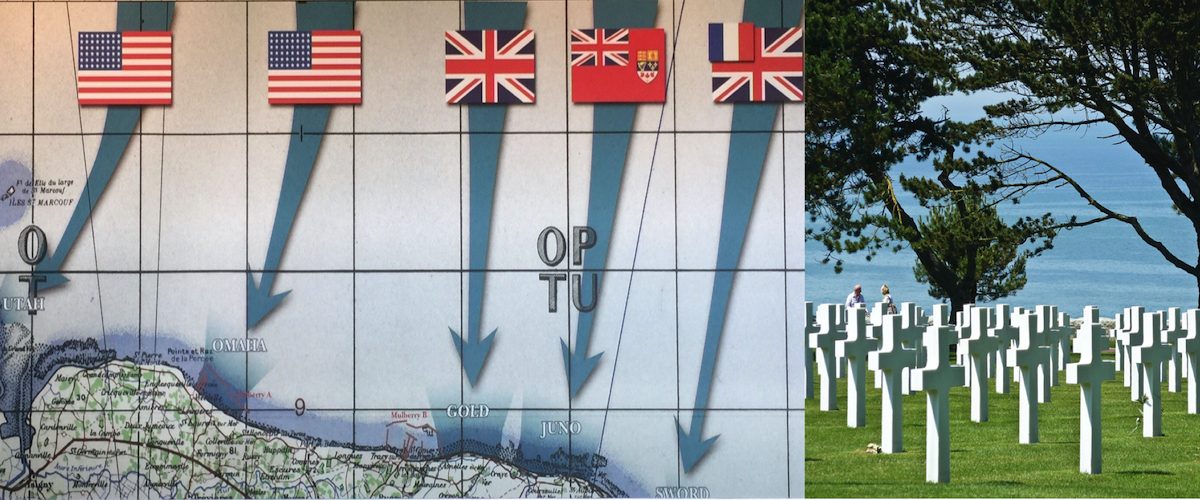 Vannes became one of the most important cities of Brittany and the favorite residences of the Dukes at the end of the Middle-Age, founded by the Romans after their victory over the Veneti in 56BC. In the 17th century, convents were built giving to Vannes the status of an important religious city. At the same period, as the Parliament of Brittany moved from Rennes, many houses were built especially in the southern part of the walled city. Later in the second half of the 19th century, the railway and the installation of two artillery regiments contributed to the city's growth. Today Vannes boasts a superb and well-preserved architectural heritage that you will discover along a walking tour.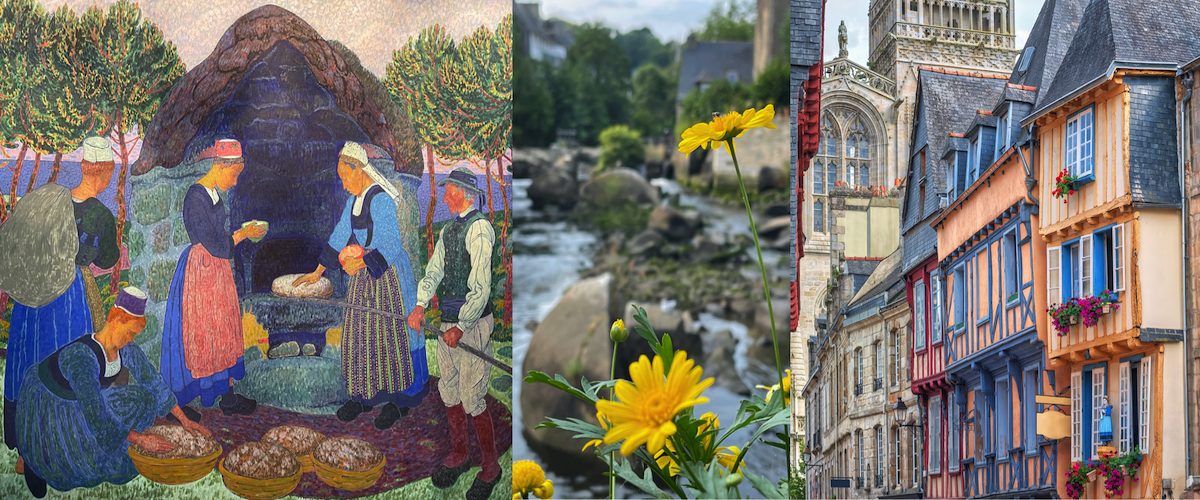 Pont-Aven is a picturesque mill town best known for its association with the painter Paul Gauguin. Sitting peacefully by the side of the River Aven, the attractive little town of Pont-Aven is famous for its many mills, so beautifully captured by Gauguin in his paintings. Gauguin founded the École de Pont-Aven (School of Pont-Aven) with Emile Bernard. Many of the school's paintings can be found in the Musée de Pont-Aven, which houses over 1,000 works. This artistic tradition continues today with the Pont-Aven School of Contemporary Art (PASCA). Follow the Promenade des Moulins for a charming walk around the remains of Pont-Aven's 15 mills and end up at the Moulin du Grand Poulguin, which has been converted into a restaurant as well as a working mill, for a fantastic meal.
Quimper, located in a pretty valley at the cross-rivers of Odet and Steir, is home of the renowned Quimper Faïence pottery and the Britain lace. Visit the famous HB Henriot workshop in Locmaria, the pottery quarter to see how the faïences are made. The Museum of Faïence housing over 500 pieces of pottery is a must-seen spot. Strolling across the streets bordered by half-timbered houses and enter Saint-Corentin cathedral, the largest one in Brittany before enjoying a peaceful walk through the manicured and tree-shaded gardens (Jardin de la Retraite & Jardin du Prieuré Locmaria).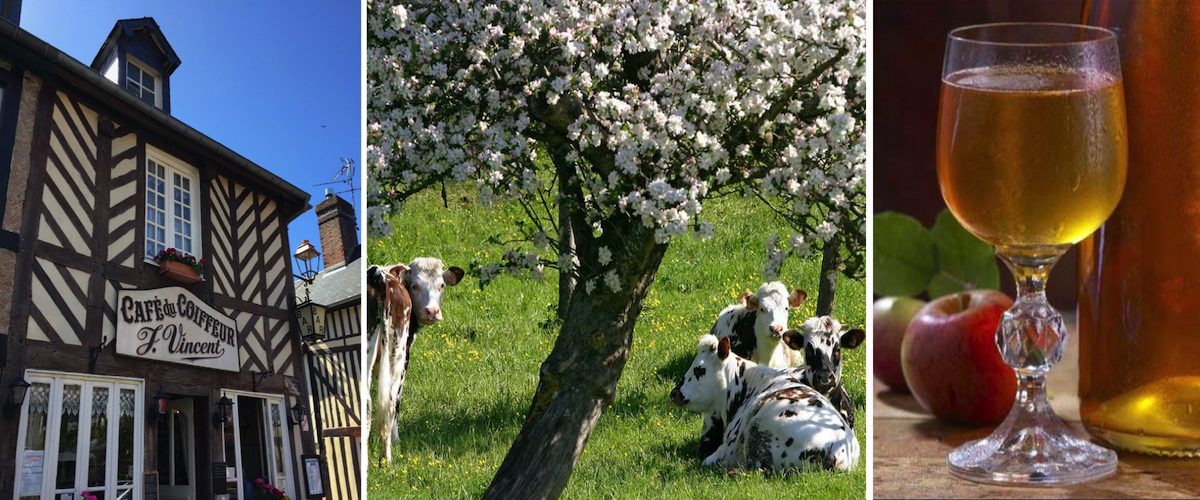 Day 1 – Transfer to Honfleur from Paris ∼ Afternoon Pays d'Auge cultural & good Tour
Private transfer to Honfleur, a scenic town on the channel seaside. Stroll across Honfleur cobbled streets bordered by charming shops, art galleries and restaurants. Visit Eugene Boudin Museum (Boudin was Claude Monet's master teacher).
Lunch in Honfleur.
Afternoon transfer to Bayeux through the Pays d'Auge picturesque county, its scenic villages such as Beuvron and Cambremer. You will visit a cider farm and enjoy ciders and Calvados brandy tasting.
Check-in to the hotel.
Dinner in a traditional restaurant in Bayeux.
Overnight.
Day 2 – D-Day sites full-day Tour
After breakfast, transfer to Sainte-Marie-du-Mont.
Morning visit to Utah museum and landing beaches.
Lunch in a crêperie in Sainte-Mère-Eglise.
La Pointe du Hoc and Colleville-sur-Mer American cemetery afternoon guided tour
Transfer to Bayeux.
Dinner in a traditional restaurant in town.
Overnight.
Day 3 – Bayeux & Caen full-day Tour
After breakfast, walking tour through Bayeux historic quarter, from the cathedral to the Tapestry Museum. Time free at your leisure before having an early lunch in Bayeux that we will prepare together.
Afternoon transfer to Caen, the third largest city in Normandy, founded by William the Conqueror in the 11th century which has experienced pivotal historical moments, including the siege by King Edward III during the 100 Years' War and the Battle for Caen during the World War II. The guided walking tour takes you to the Chateau of Caen, a major stronghold for the English during the Hundred Years' War, which served as a place of assembly for the Dukes of Normandy and Kings of England, and to the Abbaye aux Hommes, a former Benedictine monastery where the former Duke of Normandy and the King of England William are buried.
Back to Bayeux, resting time.
Dinner in a traditional restaurant.
Overnight.
Day 4 – Transfer to Brittany through the Mont-Saint-Michel
After breakfast, check-out not later than 8:30am. Transfer to the Mont-Saint-Michel (1h30 drive)
At 10:30am, UNESCO site expert-led walking tour. Visit to the abbey & cloister by audioguide in English.
Lunch in Pontorson nearby the Mont.
Transfer to Plouhinec in Brittany (2h30 drive)
Check-in to La Villa d'Etel. Resting time.
Casual dinner in the villa.
Overnight.
Day 5 – Market Cooking Class ∼ Vannes & the Gulf of Morbihan 
After breakfast, transfer to Vannes. Wednesday is always alive, as it's market day!
You will experience and enjoy the food and artisans shopping. You will explore the historic quarter by walking.
Lunch in Vannes
Early afternoon tour through the scenic Gulf of Morbihan. Transfer to La Villa d'Etel then.
3-hour hands-on Cooking class starting at 5pm, followed by the food & wine pairing dinner in the villa.
Overnight.
Day 6 – Quimper and Pont-Aven full-day Tour
After breakfast, transfer to Quimper.
Morning guided walking tour through the historic quarter.
Lunch in a gourmet restaurant in the outskirts of Quimper.
Afternoon transfer to Pont-Aven. Walking tour through this quaint village which inspired so many painters including Gauguin. Visit to the must-see Museum.
Transfer to Plouhinec. Casual dinner in the villa that we will prepare together (if you decide).
Overnight.
Day 7 – Le Mans & Transfer to Paris
After breakfast, transfer to Le Mans, a city of Art and History.
Lunch in a gourmet restaurant and walking tour through the preserved historic quarter with half-timbered houses and Renaissance mansions.
Late afternoon transfer to Paris.
End of the tour.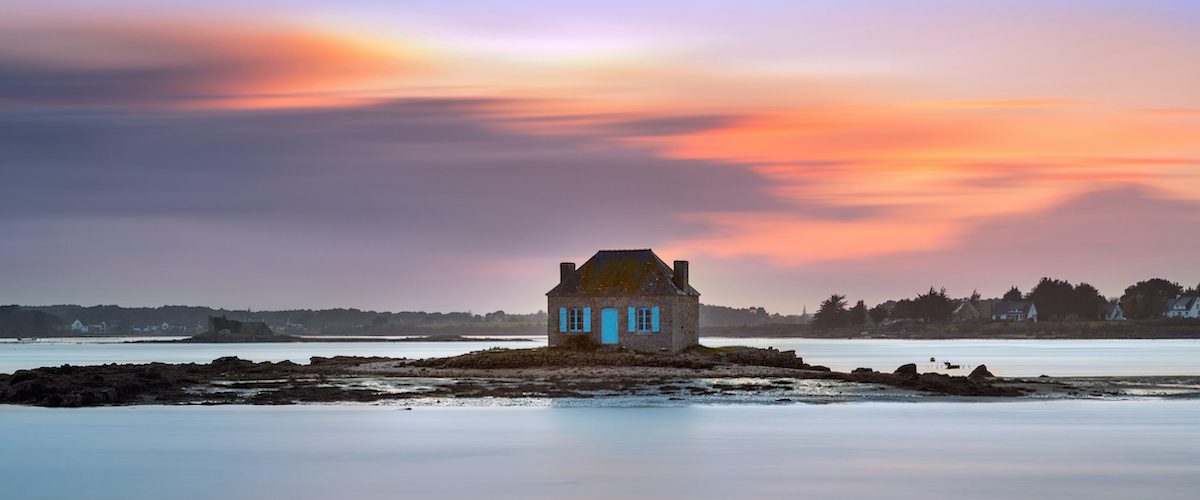 US$ 4,300 per person (DBL occupancy)
Single occupancy supplement: US$ 370
All taxes and VAT includes.
Price includes:
• Paris round-trip transfer and daily transportation for visits and tours
• 6-night luxury B&B accommodation in Normandy and private villa in Brittany
• Daily breakfasts, lunches and dinners as detailed in the itinerary
• Honfleur, Mont-Saint-Michel, Caen, Bayeux, Vannes, Quimper, Pont-Aven, Le Mans cultural guided tours
• Entrance tickets to cultural sites
• Market cooking class in Brittany & Visits to local producers
Not included: airfare from/to your country, wine
in restaurants, personal expenses, and personal insurance, and all which
is not mentioned in "price includes".
---
2023 & 2024 TOUR DATES
This tour is offered upon request from May to September. Please contact us for additional information and assistance.Thank you.